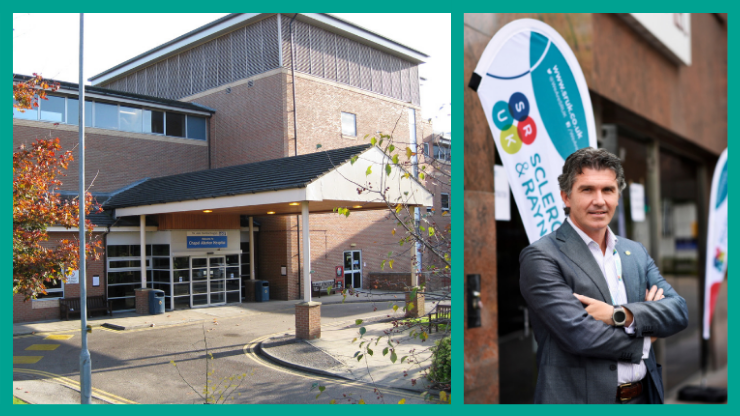 A novel study to detect early scleroderma symptoms has been funded by SRUK
Keen eyes will remember the 'Trust Me, I'm a Doctor' BBC episode in which the first ever SRUK 'Drop In Mobile Clinic for Raynaud's Phenomenon' was a key feature. SRUK and Dr Francesco del Galdo worked together to raise awareness of Raynaud's Phenomenon and diagnose people in Leeds with the condition.
Raynaud's Phenomenon, in contrast to scleroderma, is fairly common in the UK with up to 10 million diagnosed. Although it is a common condition, a very small sub population of people with Raynaud's will exhibit more severe symptoms which could be the precursor to an autoimmune condition such as scleroderma.
While the link between Raynaud's and scleroderma has been known for a number of years, we still don't know why this link exists or what the early signs for progression into scleroderma are. This is about to change, as SRUK have just joined the Kennedy Trust in funding a novel pilot study helmed by Dr del Galdo in Leeds. Dr del Galdo is working with a group of Raynaud's patients who have signs of being at risk for developing scleroderma to determine what factors are at play.

Over 3 years, blood and skin samples will be collected from this group of people at 6-month intervals and analysed to determine the presence of biomarkers (such as antibodies and proteins) associated with scleroderma. While research has taken place into identifying biomarker association with scleroderma, this analysis has only taken place in patients who have been advanced in the progression of their condition. This study takes a novel approach by analysing within skin biopsies which of the tissue changes known to be involved in scleroderma happen before the onset of the condition.
This research will have huge potential in being able to 'predict' who will develop scleroderma and therefore will enable earlier treatment that may be able to prevent, or even cure, the condition.
In addition to the clinical samples, imaging, genomic and proteomic data collected by the study, SRUK has been granted outside funding from Microsoft in order to supplement the research with lifestyle data of the patients involved. In conjunction with one of Microsoft's leading AI partners as part of their 'AI for Good' programme, the data we plan to collect will contribute to the research; hopefully resulting in significant findings about the development of early-onset scleroderma.
If you'd like to be a part of research into scleroderma and Raynaud's then you can sign up to take part in clinical trials or you can donate today to ensure that this vital work stays active.