Coronavirus - Assessing Your Risk
Am I high risk?
Whether or not a person is classified as 'high risk' depends on two things, how likely they are to contract COVID-19 (i.e. how effective any vaccinations may be at protecting them) and how at risk they are of developing severe complications should they contract COVID-19. Both of these factors can be influenced by your medical history, any conditions you have, and/or any medication you take to manage those conditions.
There is an extensive list of risk factors on the NHS website, however for the SRUK community, the key conditions that could mean you are at higher risk are:
A long-term lung condition
A weakened immune system due to a treatment (such as high dose oral or injected steroid medicine, biological therapy, chemotherapy, or radiotherapy.)
Conventional DMARDs, such as methotrexate, azathioprine, mycophenolate mofetil.
Anti-TNF biologics, such as infliximab, adalimumab, etanercept, golimumab, certolizumab pegol
Other biologics, such as rituximab, tocilizumab, abatacept, ustekinumab, secukinumab, belimumab.
JAK inhibitors, such as baricitinib, tofacitinib, upadacitinib, filgotinib.
Prednisolone (steroid tablets) at doses of 10mg per day or higher.
A condition that means you have a very high risk of infection
Whether your consultant has indicated that you are eligible for a third dose.
I'm high risk, what does that mean?
If you are high risk, this makes you eligible for additional COVID-19 vaccinations. For those with a weakened immune system who may not have had a strong response to their initial two vaccine doses, you are entitled to a third primary dose of COVID-19 vaccine. This will be followed up with a booster injection 6 months later.
For those who are more vulnerable should they contract COVID-19, but who do not have a weakened immune system, you will be offered a booster vaccine 6 months after your second COVID-19 vaccination.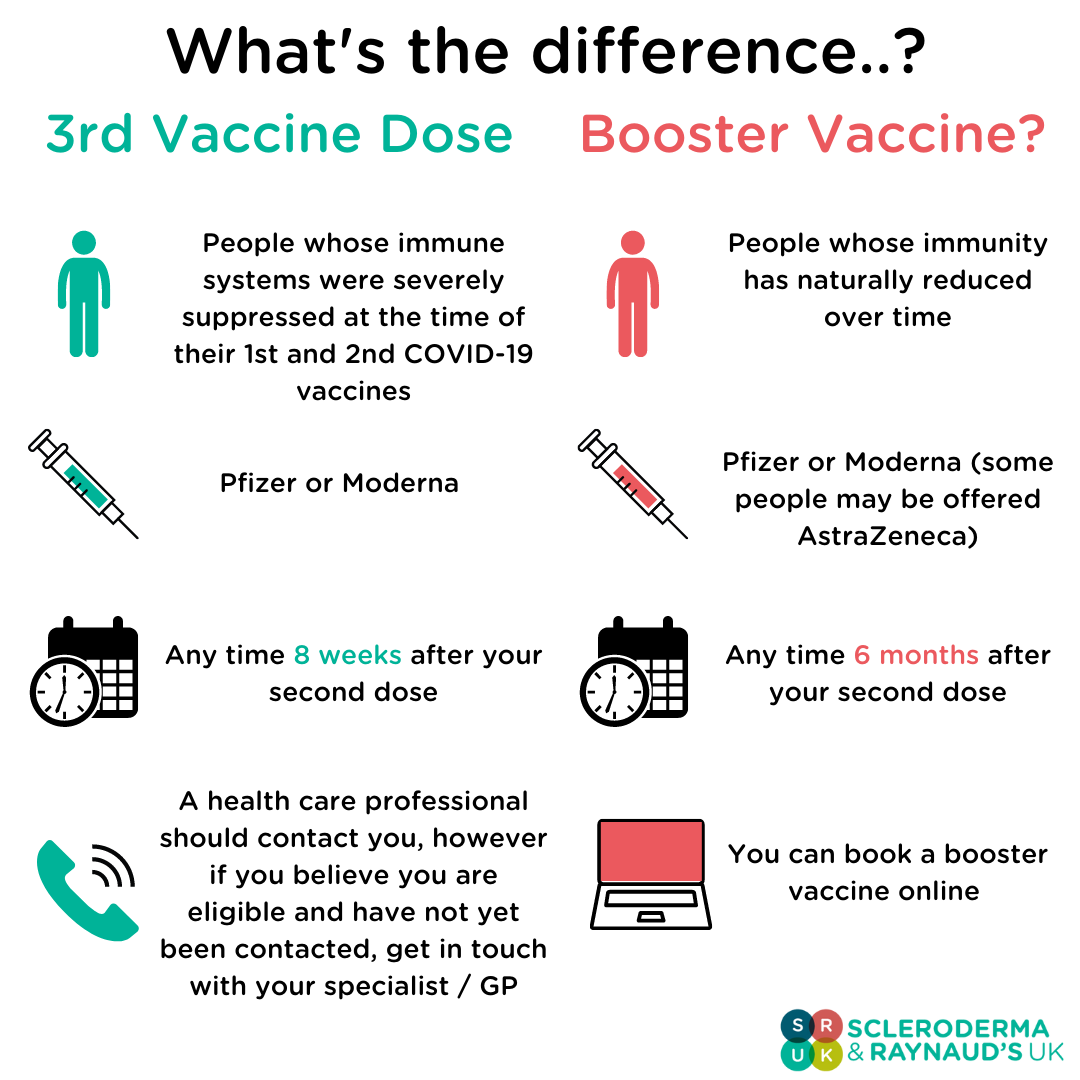 For more vaccine specific information, take a look at our vaccine information page.
How do I know if the COVID-19 vaccine is less effective for me?
The short answer is that you cannot know for sure how well your immune system has responded to the vaccine without undergoing testing for antibodies. Such a test can give you a numerical value for your antibody response, which is a step towards understanding your risk, however it is difficult put these results into context since scientists do not yet know what the 'magic number' of circulating antibodies is to ensure that a person has optimal protection from the COVID-19 virus. For this reason, we would not recommend that individuals take these tests from private providers.
Research into these aspects of immunity is currently on-going. Studies such as OCTAVE have examined the antibody responses in immunocompromised patients, finding that whilst 89% generated antibodies, those who had lower responses were largely those with autoimmune rheumatic diseases. OCTAVE DUO will study how the immunocompromised respond to third doses. Meanwhile the Office of National Statistics are studying circulating antibody levels and COVID-infections in the wider-UK population with the aim of understanding how an individual's antibody levels may correlate with infection.
In the meantime SRUK recommend that you receive a third primary dose or booster as appropriate for your situation to ensure you have the best protection possible from the COVID-19 virus.
Read more on this topic here: