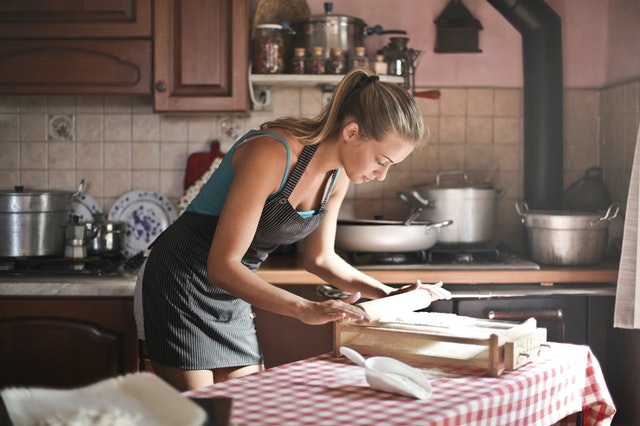 Coping With Self-Isolation
With so many of us now staying at home due to the risk of COVID-19, we all need to find some new ways to keep as active as possible – both physically and mentally. Our team have been busy putting together resources and ideas for our community, that are designed to help us all keep moving, keep well and look after our mental wellbeing during these unprecedented times. We will be adding to our programme of activities so do keep an eye on this page or join us on Facebook, Twitter or Instagram.
Exercise – the importance of being active
Many things can impact upon the quality of a person's life, especially if you are living with a long-term, chronic condition like scleroderma or Raynaud's phenomenon. While neither condition has a cure, there are many ways to help manage the symptoms, including taking regular exercise.
Although the same things will not work for everyone, there are a few options that can improve your quality of life without breaking the bank or overhauling your whole routine.
But firstly, how do scleroderma and Raynaud's phenomenon impact upon our mobility?
Scleroderma is a variable condition and it is rare for patients to exhibit the exact same symptoms, however, there are overarching similarities. These include tightness of the skin, gastrointestinal problems, loss of dexterity in joints due to soft tissue damage, painful joints and reduced mobility.
Raynaud's phenomenon usually affects the hands and feet, and many people find that this reduces their dexterity.
What are your options for exercise?
The smallest amount of exercise can improve your quality of life when living with scleroderma and Raynaud's phenomenon. Try to make exercise a regular part of your day.
We now have a range of exercise videos available online, that are recommended by physiotherapists and are suitable for people living with scleroderma and Raynaud's phenomenon to do at home.

Will Gregory, consultant physiotherapist, recently talked to our community about ' Keeping active with scleroderma and Raynaud's phenomenon: exercising during lockdown and beyond.' Please follow the link to watch the video, in which Will explains a range of exercises that you can do at home and outside to help manage your condition.
Balance exercises

We are delighted to have teamed up with the fantastic Paula Manning who will be taking you through some very relevant balance exercises. Hopefully these exercises will help you test and monitor your balance, keep fit, make improvements and reduce any likelihood of accidental falls.
Whatever your age, Paula is challenging you to give it a go. Our dear Paula was diagnosed with mixed connective tissue disease and secondary Raynaud's 18 months ago. We would like to say a huge thank you to her and we hope you enjoy and find this valuable.
Click to watch now: https://bit.ly/3cZthFm
Try these easy-to-follow exercises and see a difference within a week:
1. adjusted calf raises
2. adjusted shin raises
3. sit to stand
4. tight-rope stand
5. tight-rope walk
6. one-foot stand
Further resources

For a list of exercise options, please talk to your healthcare professional. In the meantime, you can take a look at the following resources: Change4Life website, Active 10 – Home, Routes Map my walk, Welcome to Tai Chi Exercises by Ros Smith (Chartered Physiotherapist and Tai Chi Instructor), Facebook: Make Movement your Mission Public Group, YouTube: Make Movement your Mission Introduction Video 20 March 2020 and Big Bold and Balance
Mindfulness and relaxation

Having scleroderma and Raynaud's can often mean living with some quite complex health issues. Although the immediate focus must be on your physical health, it is easy to overlook the psychological impact of scleroderma and the wider repercussions that this can have on your life.
Mindfulness is all about paying more attention to the present moment – to your own thoughts and feelings and to the world around you. This awareness can improve mental wellbeing, helping us to enjoy life more and understand ourselves better.
Taking steps to develop and use mindfulness techniques in your own life can help you to manage levels of anxiety or stress, by focusing more on the present moment instead of on the past or the future, especially during times like these.This video on 'Mind & Meditation' with Janet Broomhall - https://bit.ly/3bk3KoU,will help to create a feeling of peace and tranquility.
Mindfulness technique

Find a quiet, relaxed space
Focus on your breathing and with your eyes closed, breathe in slowly
Think of your breathing and the breath filling your lungs
Do not criticise your mind for wandering, this is perfectly normal. Simply acknowledge this when it occurs and then return to thinking about your breathing
How does mindfulness work?
Mindfulness helps you to accept a given situation, whatever this may be. It has been shown to reduce stress and help to lower levels of anxiety. It also improves the clarity of the mind which in turn increases creativity and the ability to solve problems, see beyond the pain, develop resilience and generally feel happier. By helping you to develop self-control, mindfulness enables you to feel more in charge of your situation.
Fatigue
Fatigue is common across many autoimmune diseases, including scleroderma. People often describe the feeling of 'hitting a wall' of fatigue, that makes it difficult to carry on without a rest. Gently increasing exercise can help to improve symptoms of fatigue. Often there is no specific cause other than scleroderma, but other medical conditions, such as anaemia, should be ruled out. Although things may be escpecially difficult at the moment, it is important to maintain good nutrition, establish good sleep habits, stay as active as you can, rest whenever possible and try to conserve your energy.
Finding support
Scleroderma can be an isolating and overwhelming condition to cope with. It is important to access all the support that you can, so please contact us and we will put you in touch with local groups and other individuals who have the same condition. Some of our local group leaders are continuing with their activities remotely for the time being to help everyone to stay connected. You can also chat with other people with scleroderma, their partners and families through our online community.
If you feel you need more help with maintaining good mental health, do not hesitate to speak to your GP about a referral to psychological support services.
Keep connected
Maintaining our social engagement and interaction with each other is crucial during these unprecedented times of social distancing and self-isolation. There can be great benefits through simply feeling connected to your wider community and social networks. Practical support may also be available from your neighbours, such as help with shopping and collecting medications.
Most major supermarket chains now offer online shopping, and many pharmacies have online services and will deliver prescriptions free of charge. To ensure you register with a legitimate service-provider, read the NHS guidance on buying medicines online.
Make video calls to stay in touch with family and friends. One-to-one calls are always an option, but you can also get a group together using platforms such as Skype, Zoom or Google Hangouts. If someone in your family or group of friends already uses one of these, ask them to help you set it up.
Be entertained…or learn something new
Staying at home presents the opportunity to read books, listen to podcasts and catch up on movies, TV shows and box sets. If you do not want to spend money on subscriptions, the BBC, ITV, Channel 4, and Channel 5 all have on-demand services.
If you fancy a mental challenge, why not try an online course? There are now many platforms offering free courses in a variety of different subjects.
Get creative
SRUK needs you now more than ever! There are loads of creative ways to spread the word and fundraise for us, all from the comfort of your own home. Check out our fundraising page for more details about virtual events and please contact us if you would like any more information.