Our Research Strategy
SRUK's research strategy: what is it, and how did we develop it?
SRUK is the only UK charity funding essential scientific research into scleroderma and Raynaud's with the goal to improve the lives of everyone within our community. Our research strategy guides the projects we fund and ensures everything we do is shaped by what is best for our community.
Read the latest version of SRUK's Research Strategy here:
SRUK's Research Strategy
How did we develop our Research Strategy?

SRUK is dedicated to supporting those living with scleroderma and Raynaud's phenomenon. Our strategy was co-produced with our community of people living with scleroderma and Raynaud's and UK clinical and research leaders. An independent Scientific Advisory Group provided oversight to the process, ensuring patient benefit and scientific feasibility.
Our Research Strategy: A three step process
Step 1: Working with our Community Research Panel, a group of individuals affected by Scleroderma and Raynaud's we identified the typical Patient Journey from diagnosis, through to referrals, specialist and ongoing care. This highlighted the many challenges faced by patients along the way.

Step 2: The UK has world leading researchers and clinicians researching into and delivering care to those with Scleroderma and Raynaud's. Through a series of roundtables, we asked our 'research leaders' to identify current gaps in the research landscape which when addressed would break down the barriers faced by those living with Scleroderma and Raynaud's. These gaps clustered under the themes of understanding the causes of scleroderma and Raynaud's, earlier diagnosis, treatments for the conditions, and Quality of Life.
Step 3: In partnership with our Community Research Panel, these research themes were prioritized, becoming the four core themes of our research strategy.
Precision medicine
Earlier detection
Quality of life
Cause of scleroderma and Raynaud's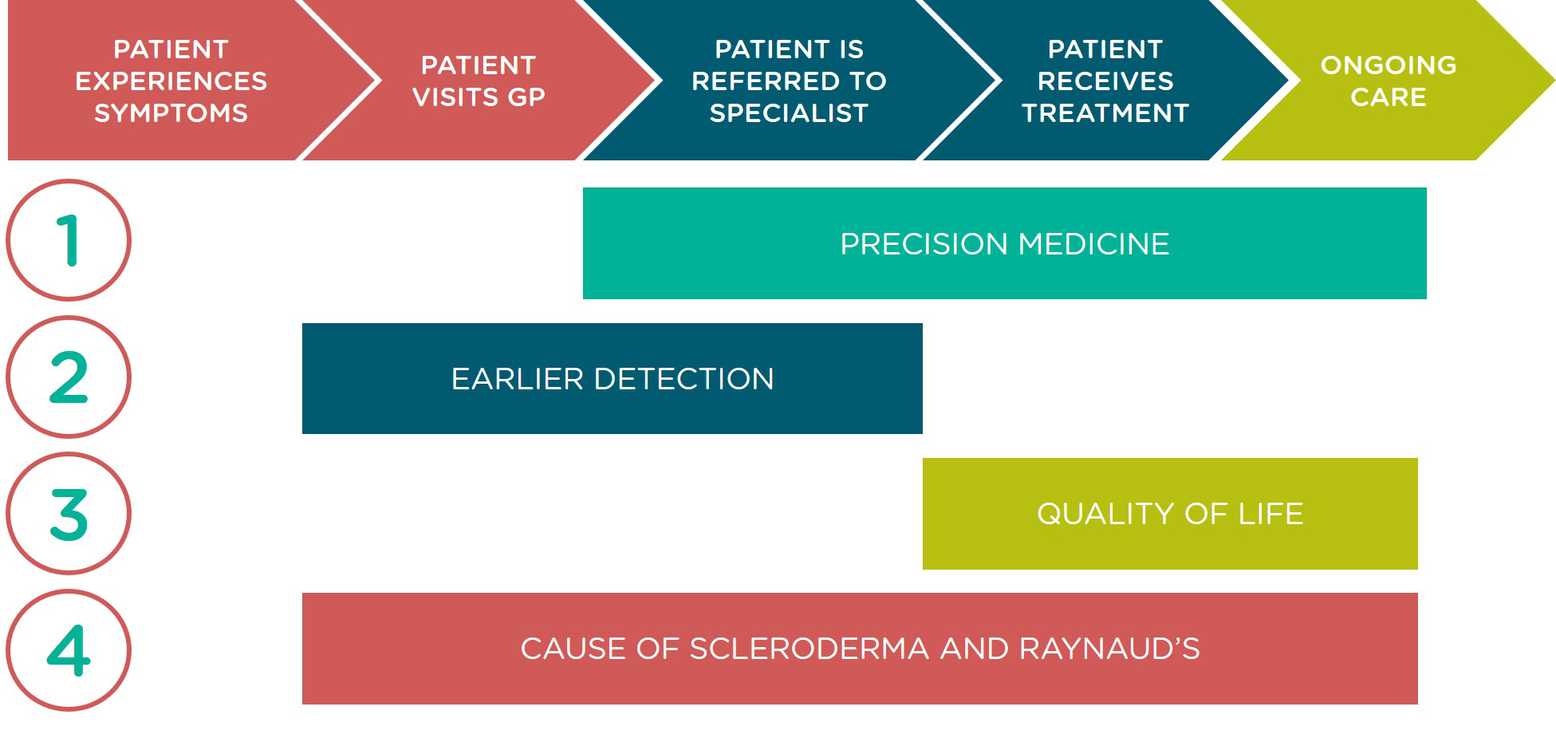 Precision Medicine

Scleroderma is a highly complex condition which differs between individuals. Some people living with the condition may have incredibly severe symptoms from the outset but remain stable for the rest of their life; others may at first have mild symptoms but then deteriorate suddenly. Some individuals exhibit severe gastro-intestinal involvement whereas others may develop lung, heart or kidney damage. Such complexity presents an opportunity to exploit 'Precision medicine', which is the tailoring of treatment(s) to an individual or subgroup of patients, as opposed to a 'one-drug suits all approach'.
We will:
Support the identification of genetic, lifestyle and environmental factors, alongside an understanding of how these factors intertwine to impact on a person's Raynaud's or scleroderma diagnosis and prognosis.
Carry out pioneering work around 'Outcome measures' to more reliably evaluate the efficacy of treatments within the aforementioned subgroups, and whether the benefits of treatment outweigh the risks or side effects.
Invest into work supporting the validation of existing and the identification of new biomarkers so that they can be used in practice to support patient care and identify risk of future organ involvement.
Early Detection
Like many chronic progressive conditions, the sooner scleroderma is recognised in a patient, the better the prognosis for the individual. Like any chronic conditions, the earlier we diagnose and intervene through effective treatment the better the long-term prognosis. Despite this, it takes on average 5 years for a person with scleroderma to receive a diagnosis and access appropriate care and treatment highlighting the need for better and more clearly defined diagnostic pathways.
We will:
Work with primary and secondary healthcare professionals to raise awareness of the link between Raynaud's and scleroderma.
Work within clinicians to improve the classification of Raynaud's to highlight those at risk of progressing to autoimmune connective tissue diseases like Scleroderma.
Fund research to accelerate the development of tools and techniques to identify the signs of scleroderma earlier.
Fund research identifying and validating molecular signatures of early-stage scleroderma such as blood and/ or tissue biomarkers.
Help develop new tools and ways of diagnosing Raynaud's and Scleroderma.
Investigate innovative ways in which we can use data to improve diagnostic practice.
Causes
Over the past 30 years our knowledge of the underlying mechanisms behind the conditions have improved. However, the stark reality is that research into the causes of the two conditions has been underfunded, meaning it is likely that many of the contributing mechanisms and factors remain unknown. A better understanding of the causes of S+cleroderma and Raynaud's will offer many benefits, including improving our knowledge of risk factors, including whether a person is an increased risk of developing more severe forms of scleroderma and Raynaud's, and allow the development and refinement of therapeutic strategies and treatments.
We will:
Increase attention and investment into the causative factors and biology of Raynaud's and Scleroderma.
Work to provide the research infrastructure in this area including resources such as patient data and biosamples.
We will work to expand our research community in this area.
Quality of Life
Scleroderma and Raynaud's can have a profound effect on a person's physical and mental well-being, impacting on their independence and enjoyment of everyday pastimes. Despite this, quality of life is often unacknowledged when considering the impact of chronic conditions. An individual's quality of life can suffer along each step of their patient journey and is interconnected with other SRUK research themes (causes, early detection, and precision medicine). Any shortcomings in these areas impact upon a person's quality of life.
Advances in research over the past 30 years has contributed to increasing the survival of those with scleroderma. However, increased survival means less if the years gained are blighted by debilitating illness and poor quality of life.
We will:
Fund research on possible treatments and interventions which could improve quality of life.
Facilitate the development of new and more effective 'outcome measures' which include quality of life and advocate for use of these in clinical trials in order to progress treatments with fewer side effects through to the clinic.
Allow clinicians and patients to have access to existing multidisciplinary resources and non-pharmacological interventions such as physical exercise.
Enable a cultural shift within the healthcare system by providing an evidence-based foundation that demonstrates the importance of improved quality of life for scleroderma and Raynaud's patients.
Medical research is vital, but costly. At SRUK we are committed to maximizing efficiency and impact within our research spend by ensuring your donations are responsibly invested in research. These four themes will help to guide the research projects that SRUK support and fund, ensuring that the vision of our community, along with the advice of clinical experts is consistently reflected in what we do.