Your Questions On The COVID-19 Vaccine
Are you living with Scleroderma and/ or Raynaud's and are concerned about or have questions in relation to the Covid-19 vaccine. Please check out our FAQs to get the advice you may need.
Contents
What are the vaccines?
Who should receive the first two vaccines?
Who is eligible for a third vaccine dose?
Who is eligible for Spring 2023 booster vaccines?
Vaccination for children and young people
Book a COVID-19 vaccination
Who should not receive a vaccination?
How much protection does the vaccinations provide?
I am taking immunosuppressants, are the vaccines safe and effective for me?
Are the vaccines tested on people with autoimmune conditions like scleroderma?
Fraud awareness
1. What are the COVID-19 vaccines?
4 vaccines are authorised for emergency use in the UK. These are the Pfizer BioNTech (Pfizer for short) vaccine, the Astra-Zeneca 'Oxford' (Astra-Zeneca for short) vaccine the Moderna vaccine, and the Janssen vaccine.
The Pfizer vaccine, Astra Zeneca and Moderna vaccines are currently in use across the UK. The Janssen single dose vaccine is in the process of being rolled out across all four nations of the UK, with the first deliveries expected to arrive later this year.
2. Who should receive the first two vaccinations?
Anyone aged 16 and over is eligible for their first and second dose of a COVID-19 vaccine. If you have not yet received a vaccine, you are able to book online now.
Children aged between 12-15 will be offered a second dose of a COVID-19 vaccine no earlier than 12 weeks after their first.

Children aged 5-11 who are in a clinical risk group, or who are the household contact of someone (any age) who is immunosuppressed should be offered a primary course of vaccination. A primary course for these children should be two 10-microgram doses of Pfizer (which is a third of the adult dose) with an 8 week interval between doses.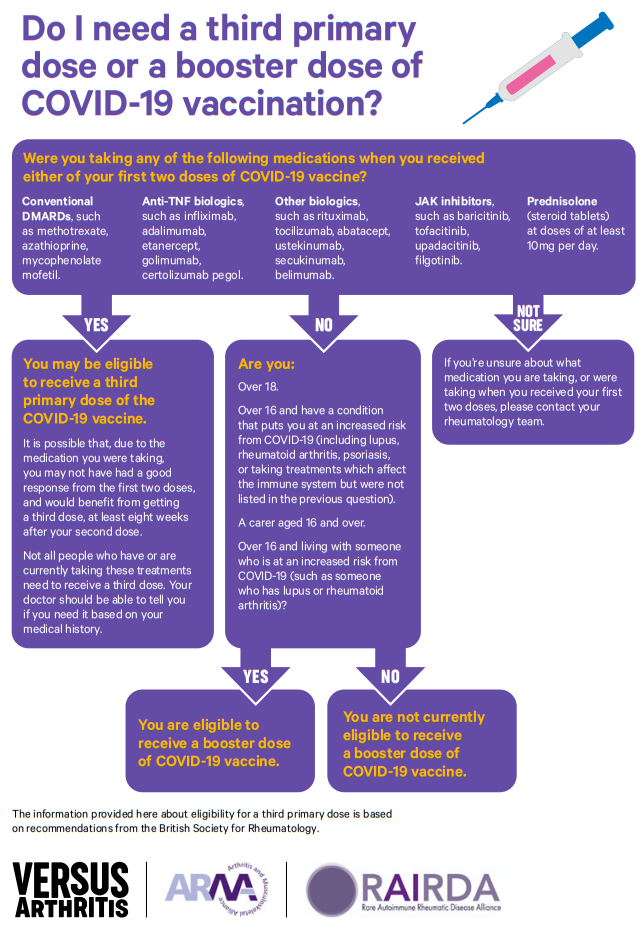 3. Who is eligible for a third vaccine dose?
People whose immune systems were severely suppressed by the medication(s) taken to manage their condition at the time of their 1st and 2nd doses of COVID-19 vaccine.
A third dose can be booked online.
Based on the JCVI recommendations, nearly all rheumatology patients (aside from those solely on hydroxychloroquine or sulfasalazine), should receive a third dose. Patients receiving the following groups of medications should be eligible for a third dose:
Conventional DMARDs, such as methotrexate, azathioprine, mycophenolate mofetil.
Anti-TNF biologics, such as infliximab, adalimumab, etanercept, golimumab, certolizumab pegol
Other biologics, such as rituximab, tocilizumab, abatacept, ustekinumab, secukinumab, belimumab.
JAK inhibitors, such as baricitinib, tofacitinib, upadacitinib, filgotinib.
Prednisolone (steroid tablets) at doses of 10mg per day or higher.
The guidance is specific with respect to certain drugs and the timings of when the patient has had their previous injections. As such, clinicians need to know the following information to make an informed decision:
What medication the patient is currently on
When the patient received their first and second vaccine doses
What medications the patient was receiving at the time of their first and second dose.
At this time it is not recommended that patients stop their immunosuppressive therapy prior to receiving their third vaccine, unless advised by their healthcare professional. Research is ongoing in this area, (such as the VROOM study) and its findings will be used to update recommendations.
What: Pfizer or Moderna
When: Anytime from 8 weeks after the 2nd dose of your vaccine
How: You should be contacted by your either your GP or specialist, however if you believe you're eligible for a third dose and have not yet been contacted, get in touch with your health care provider.
Why: Those who were immunosuppressed may have reduced antibody responses to the COVID-19 vaccines compared to healthy individuals. Some studies have suggested that a third dose boosts the antibody response to levels closer to those seen in healthy individuals. This decision was made based on results from the OCTAVE study, more information can be found on the SRUK website.
Those receiving a 3rd dose will be eligible for a booster vaccine 6 months after receiving their 3rd dose. It should be noted that a third vaccine dose is NOT the same as a booster injection, and that these are two separate programs.
4. Who is eligible for Spring 2023 booster vaccines?
Following new advice from the Joint Committee on Vaccination and Immunisation (JCVI), a 2023 spring booster dose of the Covid vaccine will be offered to people at the highest risk of severe illness:
Everyone aged 75 and over
Residents in care homes for older adults
Immunosuppressed people aged 5 and over.

This means that if you are living with scleroderma, and receiving immunosuppressive treatment for the condition, you will be eligible for the 2023 spring booster.

You can find out more information about the 2023 Spring Boosters here.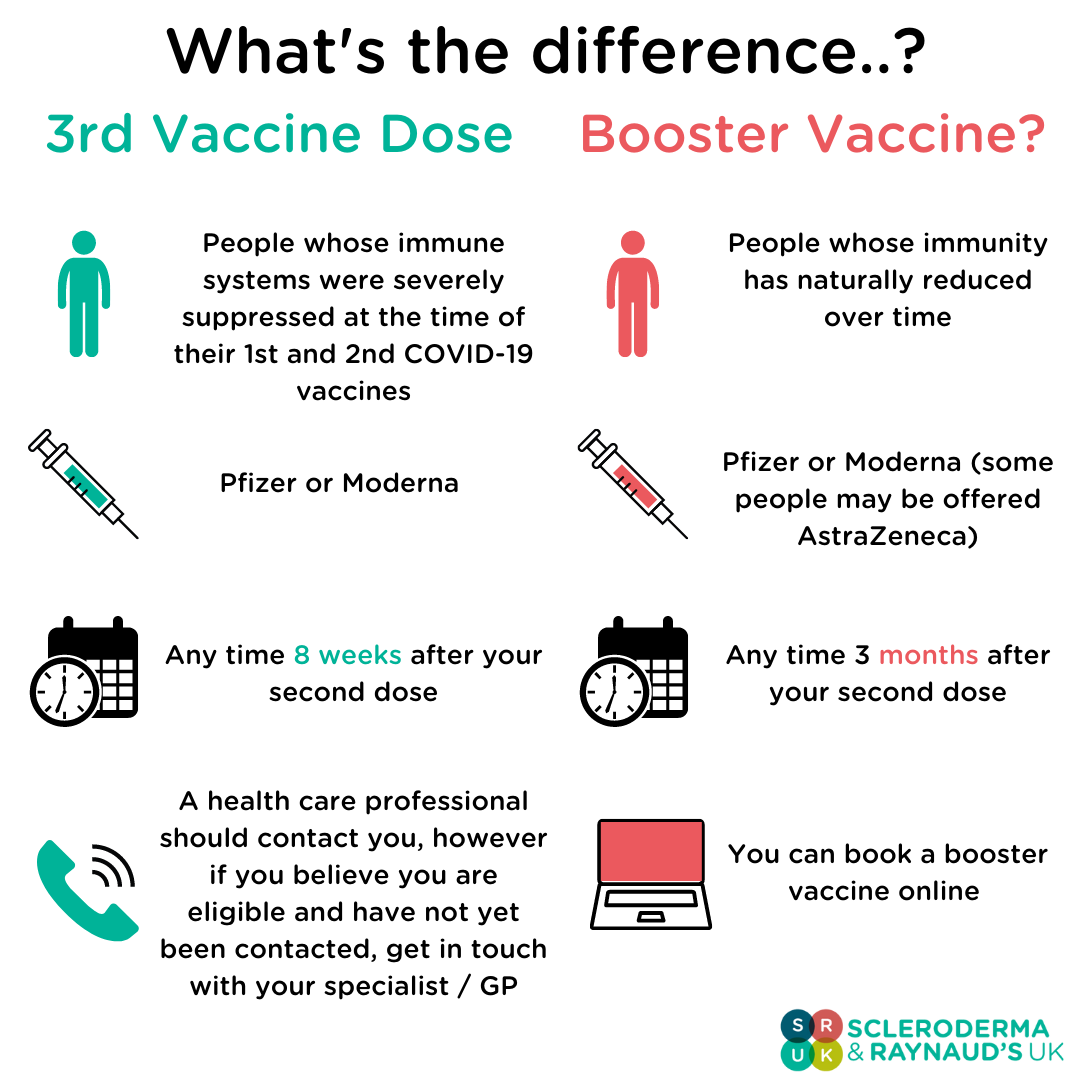 5. Vaccinations for children and young people
The COVID-19 vaccination program has now been extended to include children and young people under the age of 18 who are now able to receive the Pfizer-BioNTech vaccine.
All children aged 12 or above are eligible for their first dose of vaccine. Those who live with an immunosuppressed person, or who have underlying health conditions which put them at higher risk may be offered a second vaccination. This includes:
Children with severe neurodisabilities
Children with Down's syndrome
Children who are immunosuppressed
Children with multiple or severe learning disabilities.
Children with haematological malignancy
Children with sickle cell disease
Children with type 1 diabetes
Children with congenital heart disease
Children with poorly controlled asthma and less common conditions where respiratory infections can result in severe illness

6. How can I book a COVID-19 vaccination?


7. Who should not receive the vaccines?
As is routine for all vaccinations you should inform the doctor, nurse, or pharmacist whether you have any pre-existing health conditions so you can receive the best advice and treatment at your vaccination appointment.
There are some groups for which vaccination is currently not recommended. These include:
Those with a history of severe allergy
Those with an ongoing severe infection
Anyone scheduled for elective surgery, or who has had elective surgery within the last 7 days.
8. How much protection does the vaccine provide?
No vaccine is ever 100% effective. All vaccines approved for use in the UK have met the effectiveness criteria set by the MHRA to show that they can protect against serious illness from COVID-19.
Studies such as the OCTAVE study show that individuals who are immunocompromised generate a reduced vaccine response, however it is not known to what extent this leaves people unprotected, therefore SRUK advise being aware of your risk, and accepting any booster injections, or third vaccine doses that may be offered to you.
9. I am taking immunosuppressants, are the vaccines safe and effective for me?
The vaccines are safe to take alongside most immunosuppressive treatments, however those taking these types of treatments may generate a lower level of protection in response to COVID 19 vaccination compared with the general population. It is still very important that you get vaccinated as it will offer you a certain amount of protection against catching COVID-19.
If you are due to start a scheduled immunosuppressive therapy (e.g., biologics such as rituximab) you may be advised by your doctor to delay treatment so that you may receive one or both vaccine doses before commencing your treatment cycle. This should allow your immune system to make a better response to vaccine. Alternatively, your doctor might suggest an alternative treatment which may improve the protection offered by the vaccine.
If you are currently taking oral corticosteroids or 'steroids' such as prednisolone to manage your condition it is safe to receive the vaccine. The current advice is that vaccination should not be delayed for those who are taking, have received or are due to receive steroids in any form.
If you are on a waiting list to receive a high dose steroid injection such as methylprednisolone or triamcinolone then you and your Doctor may discuss whether you should delay having your injection by two weeks in order to get the best possible response from the vaccine.
You should not stop your immunosuppressants or any other medications that you may be taking to manage your condition on your own. Any decision to defer immunosuppressive therapy or to delay possible benefit from vaccination until after therapy should be made in partnership with your medical professional considering fully the risks from both COVID19 and your underlying condition(s).
10. Are the vaccines tested on people with autoimmune conditions like scleroderma?
In the initial vaccine trials, it is unlikely that any participants were people living with scleroderma, given the rarity of the condition.
More recently, studies like OVTAVE have examined the effectiveness of COVID-19 vaccines in people with autoimmune conditions. Whilst these vaccines are safe to take for people living with scleroderma, their effectiveness varies between individuals, dependent on factors such as medical history and medication.

11. Fraud awareness
According to the prioritisation guidance, you will be contacted by the NHS, your employer, a GP surgery, or pharmacy local to you, to receive your vaccine.
The vaccine is free of charge and at no point will you be asked to pay or provide your bank account or card details.
Additional advice can be found on the Action Fraud website.