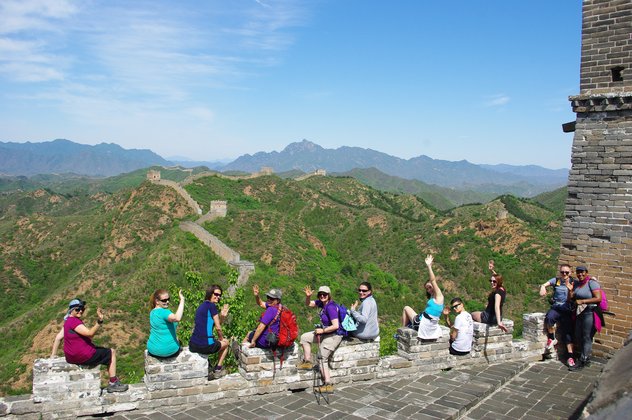 A majestic 9 day trekking adventure and conquer the twists, turns, steps and slopes of thisformidable fortification - the famous Great Wall.
As we trek along this iconic Wonder of the World, we'll cross ancient watch towers and battlement stations to witness magnificent panoramas of luscious, rolling green hills as far as the eye can see!
We'll climb the iconic Heavenly Ladder and help rebuild part of the wall, a unique privilege exclusive to Global Adventure Challenges, whilst immersing ourselves in stunning scenery and Chinese culture.
You'll also have the opportunity to explore Beijing, China's capital whereancient and modern meet, on a free day so why not visit iconic landmarks such as the Forbidden City,Temple of Heaven and the famous Tiananmen Square to name a few!
Itinerary
Day 1: Depart the UK on an overnight flight to Beijing.
Day 2: Arrive in Beijing, meet local guides and transfer to hotel in Pinggu. Rest of the day free to acclimatise and refresh after flight.
Day 3: Warm up trek from Pinggu to Huangyaguan. Trekking time 3 hours.
Day 4: Trek the remote and stunning Gubeikou section of the Great Wall covering 27 watch towers! Trekking time 8 hours.
Day 5: Trek from Jinshanling – another remote section, far from the tourist trail. Trekking time 5-6 hours.
Day 6: Trek Mutianyu section of the Great Wall and conquer the 1,000 steps that make up the 'Heavenly Ladder'. Trekking time 6 hours.
Day 7: We trek from Juyongguan to Badaling where we help to repair a section of the wall, then transfer back to Beijing. Trekking time 3 hours.
Day 8: Free day in Beijing to explore the sights and sounds of this amazing capital city.
Day 9: Transfer to Beijing for fight back to UK, arriving same day.
Cost
Option A - Minimum Sponsorship - Registration Fee

£299

+ Min Sponsorship

£2750

+ Airport Tax and Fuel Surcharge Contribution:

£250

Or Option B - Self-funding - Registration Fee

£299

+ Self Funding

£1375

+ Airport Tax and Fuel Surcharge Contribution:

£250
Email us for more information or you can download the brochure for the event below
You can sign up here today