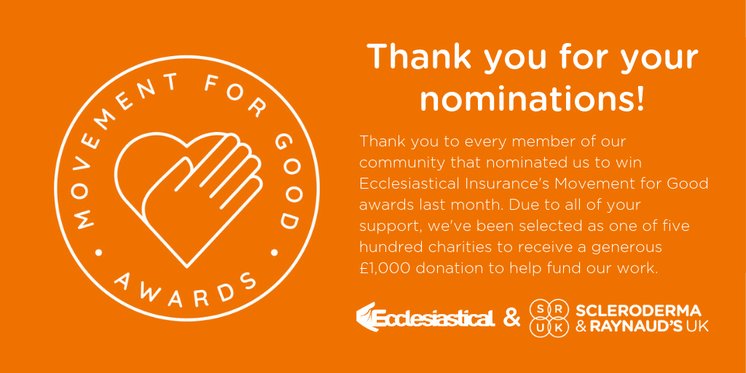 SRUK wins £1,000 Movement for Good award
Scleroderma & Raynaud's UK (SRUK) has won a £1,000 Movement for Good award thanks to nominations from the public.
SRUK was nominated to win a £1,000 boost as part of specialist insurer Ecclesiastical's Movement for Good awards, which is giving £1million to charities this summer.
As the only UK charity dedicated to improving the lives of people with Scleroderma and Raynaud's, we will use this money to increase awareness of these diseases. Access to information available about Scleroderma and Raynaud's is limited. SRUK research has shown that there is currently a significant lack of understanding of Scleroderma and Raynaud's amongst both the public and health professionals leading to poor support and treatment of Raynaud's and delayed diagnosis of Scleroderma.
Members of the public were invited to nominate causes close to their hearts, with 500 gifts of £1,000 available for donation. SRUK was one more than 7,000 charities which were nominated by an amazing 98,000 members of the public to be in for a chance to win a financial boost.
SRUK CEO, Sue Farrington said 'We are a small charity, which doesn't receive any government funding. Each year we rely on the generosity of the public to help us continue supporting everyone affected by Scleroderma and Raynaud's, continue to increase awareness and understanding of the conditions and continue campaigning and funding research into more effective treatments. I would like to thank everyone who nominated us.'
Mark Hews, group chief executive at Ecclesiastical, said: "As a company whose purpose is to contribute to the greater good of society, charitable giving is at the heart of our business. We know that £1,000 can make a huge difference to the incredible work that charities do and we're looking forward to seeing how this financial boost will change lives for the better."
If you are interested in joining Ecclesiastical in supporting our work, then please visit our donations page here: Donate Today. We rely on the generosity of our community to continue to support groundbreaking research in both scleroderma and Raynaud's.
If you would like information on scleroderma treatment, please visit: Scleroderma Treatments
A recent piece on self-management advice can be found here: 6 tips for self management