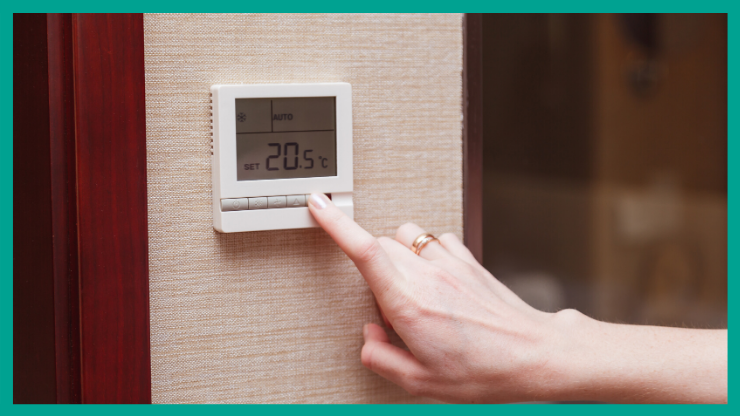 The real reason for the gender heating wars
A survey we conducted for Raynaud's Awareness Month shows that 61% of women surveyed who admit to secretly adjusting the heating in their home, turn it up or on, while 56% of men who do the same acknowledge turning it down or off on the sly.
The poll, conducted in January 2019 by Censuswide on behalf of SRUK, surveyed 1070 respondents living together in heterosexual relationships and revealed a hidden battle of the sexes raging over control of the thermostat.
Just over one in five (21%) female respondents, admitted to secretly adjusting the heating in their home. While many will simply be fighting for a little warmth, it might not be coincidence that a little-known condition called Raynaud's phenomenon is most common in women, and means they're more sensitive to temperature changes.
Symptoms tend to start in the 20s and 30s age groups and eight million women live with the condition in the UK, though many don't realise. Two million men are affected by the condition.
The SRUK/Censuswide survey also found:
The survey revealed that 3 in 5 (60%) of respondents who have been in a relationship for up to two years, secretly adjust the heating in their home more than once a week; this compares to under 2 in 5 (37%) respondents who have been in a relationship for 3 or more years who said the same.
Thirty-seven percent of the couples surveyed continue to argue about the heating, with an average couple having a row about the thermostat 19 a year.
Just over a quarter of respondents aged 25 to 44 year olds, admit to covertly changing the heating in their home every day. This happens less often amongst both the younger and older respondents (17% for 16-24 year olds and 16% for respondents aged 45 or older).
Just under 3 in 10 (29%) respondents in Scotland admit to secretly adjusting the heating in their home daily; almost double that of respondents in Greater London (16%).
So, could the fight for control over the thermostat be hiding something lurking underneath?
Sue Farringdon, Chief Executive, SRUK, comments: "Discomfort and sensitivity in fingers and toes to even the slightest drop in temperature – as well as colour changes – could be a sign of Raynaud's, which can develop into a more serious condition called scleroderma.
"Heating in the home will often need to be turned up unusually high, and even air-conditioning in the summer can be extremely uncomfortable. So, there may be a very good reason that women in mixed households need the house warmer than their other-half."
February is Raynaud's Awareness Month, during which SRUK is asking people to take their quick and simple online test to give those affected by the condition the chance to better understand, and manage, their symptoms. SRUK is the only charity dedicated to improving the lives of people affected by Raynaud's phenomenon and scleroderma.
Alexandra Marler, 53, who lives with secondary Raynaud's, said: "Raynaud's has been present in my life from a very early age. It impacts my life more than the other conditions I have.
"During a Raynaud's attack my fingers go very dark blue and it's painful, especially when circulation starts to return. It can definitely affect my choices, as not all friend's houses or coffee shops have heating on, and financially I really struggle to cope with heating bills."
If you, or someone you know, are displaying any of the following symptoms, which could be a sign of Raynaud's, take SRUK's online test today at: www.sruk.co.uk/testme
Symptoms can include:
Unusually cold fingers and toes
Colour changes in the skin in response to cold or stress
Colour changes in the affected area to white, then blue/purple and then red
Numbness, tingling or pain in the fingers and toes
Stinging or throbbing pain upon warming or stress relief
Raynaud's is not life-threatening, but it can be extremely painful and debilitating and, in some cases, symptoms can indicate a more serious underlying autoimmune condition such as scleroderma.
The Test lets people know whether they could have Raynaud's. The outcome also provides advice including tips to avoid painful episodes, and how to better #KnowRaynauds symptoms, and be alert to changes that may indicate more serious illnesses.