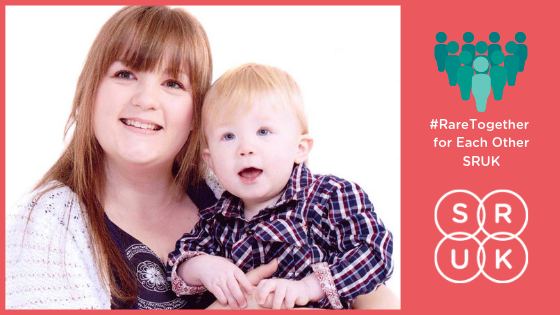 Rare Together: One woman's journey with scleroderma
Carrie's story is the first in our #RareTogether series of articles written by our community that describe their personal journey with both scleroderma and Raynaud's. Keep an eye out for more articles here, or sign up for our E-News to get monthly updates about our new content.
It all started when I was two and my localised scleroderma presented as the first lesion appeared on my right leg with more quickly appearing on my back.
My parents quickly took me to the doctors who were told it was a skin fungal infection, so I was given medication for it. After the first bottle with no improvement I was then given a second, still with no improvement my parents looked up the medication and realised it could be harmful so stopped giving it to me and I was eventually referred to a local dermatologist. It was then that I was diagnosed with localised scleroderma.
With new lesions appearing, my parents were concerned for me. The local dermatologist just wanted to take the approach of doing nothing in order to watch it and see how far it spread. This was the case till I was 11 when my dad came across SRUK. By this time my localised scleroderma was getting worse with new lesions appearing affecting the fat and muscle leaving indentations. SRUK told us that there was help out there and a specialist unit at The Royal Free Hospital in London where a team deal with scleroderma and there was treatment for it.
Armed with this new information we went back to my dermatologist to ask to be referred to the specialist team. The dermatologist was reluctant to do so but after a long conversation he did. I was 12 when my first appointment came through. By this time I had started puberty which accelerated my condition. The team at the Royal Free were amazing, they took the time to listen and investigate. At this first appointment it was suggested that I start a course of methotrexate and steroid infusions to try to slow down and even stop the localised scleroderma from getting worse.
I have to admit being 12 this prospect was really scary, hearing all the possible side affects and being immuno-compromised was a daunting prospect. The medical team were fantastic with me and my parents, and so treatment began.
Treatment was tough and I was tired all the time and seemed to catch any bug and virus that was going around. Consequently, I had time off school, I was also being bullied which made school life harder. With regular visits to the Royal Free hospital the methotreaxate was upped till I reached a therapeutic dose which worked for me and after time the localised scleroderma seemed to halt.
I was kept at this dose for quite some years as every now and then a lesion would get a bit bigger or a new one would appear, but I'd hate to think how bad it could have gotten without this medication. By the time I was 20 I had come off the medication since the localised scleroderma was in remission.
It stayed this way till I was 23 when I became pregnant, I had already been warned that pregnancy could cause a flare up of my condition which it did, but - as I was pregnant - not a lot could be done at the time. I went on to have a healthy baby boy.
Knowing we wanted to have more children I decided not to start treatment again until we had another baby, and to my surprise we went on to have twins. However, once again during my pregnancy my localised scleroderma was active. By this time I had quite a few lesions on my right ankle, leg, tummy, side, back and arm.
I have recently re-started treatment of methotrexate injections to hopefully put my condition back in remission.
Thank you for reading Carrie's story. If you would like to help support others in her position who have been diagnosed with scleroderma, please donate here. You can share your story with us below, or join in on Twitter using the hashtag #RareTogether to take part in the conversation.