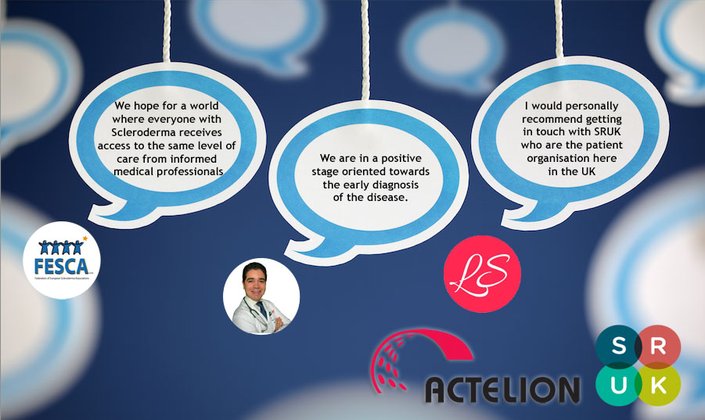 Online chat with scleroderma experts on Twitter #SclerodermaChat
This past Wednesday our very own head of engagement and development @Amy_Vic_Baker took part in an online "roundtable" discussion with three other leading experts in all aspects of scleroderma. The discussion, organised by our partner Actelion, took place on Twitter using the hashtag #SclerodermaChat and covered every aspect of the disease - from medical research and treatments to the experience of patients and carers.
The other participants included Annelise Roennow of the Federation of European Scleroderma Associations (FESCA), Spanish rheumatologist Dr. Juan Ovalles, and patient-advocate Lynn Steblecki who was diagnosed with scleroderma in 2001. 150 people joined in, Tweeting a total of 465 messages about the issue. Here are some highlights of the conversation that took place:
Currently there is a pipeline very rich in potentially effective drugs for lung manifestations, with a good safety profile. Immunosuppressants, vasodilators and antifibrotic agents to manage each major pillar of the disease. #SclerodermaChat
— Juan Ovalles, MD, PhD (@DrJuanOvalles) July 18, 2018
We fund research into several of these solutions, which aim to improve the lives of those with the condition and lower the cost of treatment long-term. You can help us increase the number of studies we fund by donating to help end scleroderma.

Make connections with other people living with #scleroderma. Build a support network with them, so you don't feel alone in your journey. I would personally recommend getting in touch with @WeAreSRUK who are the patient organisation here in the UK (2/3) #SclerodermaChat
— Lynn Steblecki (@LynnSteblecki) July 18, 2018

We support everyone affected by the conditions through our free helpline and by providing access to information and services. Find out more by signing up to our newsletter or becoming a member of SRUK.

To accelerate the diagnosis, new tools have been developed in recent years. We are in a positive stage oriented towards the early diagnosis of the disease.
Tool 1: Capillaroscopy
Tool 2: New concepts about Very Early Diagnosis of Systemic Sclerosis (VEDOSS) #SclerodermaChat https://t.co/8P2m6iatRN
— Juan Ovalles, MD, PhD (@DrJuanOvalles) July 18, 2018
If you think you might have some of the symptoms of Raynaud's, which often precedes the onset of scleroderma, take our online test to find out more.
Be open and honest with your medical professionals in order to get the right treatment. If you have a new symptom, even if you think it is unrelated, tell them about it (1/3) #SclerodermaChat
— Lynn Steblecki (@LynnSteblecki) July 18, 2018
My diagnosis journey was long and difficult. I made multiple visits to my GP before finally seeing a private Rheumatologist who referred me to the @RoyalFreeHospital. In 2001 I finally got a diagnosis of #scleroderma, a year after my first symptom. (2/2) #SclerodermaChat
— Lynn Steblecki (@LynnSteblecki) July 18, 2018
You can find all the information you need about scleroderma on our website. Whether your concerned you might have symptoms, or you're just curious to know more, we've got you covered.

We hope for a world in which everyone with Scleroderma receives appropriate access to the same level of successful care from fully informed healthcare professionals. #SclerodermaChat
— Fesca (@Fscleroderma) July 18, 2018
By working in partnership with other rare condition organisations, we've developed 12 recommendations to help achieve these goals. You can help us get there sooner by supporting us in any way you can.