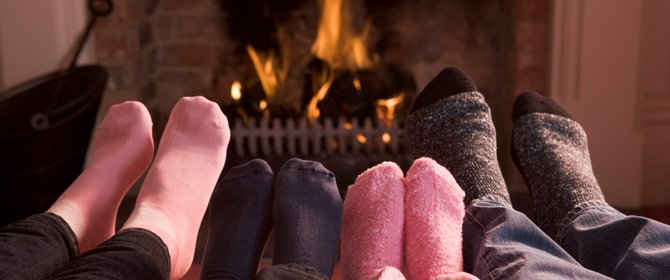 Keeping warm for less this winter
Following the announcement that British Gas is to increase its electricity prices by 12.5% from 15th September, we thought it would be a good time to consider how best to keep warm for less this winter. According to the Energy Saving Trust, heating accounts for about 60% of people's energy bills, so the sooner you get your house winter-ready, the better!
Many big energy providers are giving free boilers and loft and cavity wall insulation for people on tax credits, with an income of £16,010 or less, or who are receiving certain benefits. Some energy companies provide free insulation for certain types of property, e.g. older properties without cavity walls, regardless of your income.
You don't need to own a house to benefit. If you rent and qualify, check the provider includes rented property – providers are usually OK if they have the landlord's permission. If you are in a flat, free home improvements can be installed; however certain installations may involve the whole block (e.g. cavity wall insulation), which will require agreement from all of your neighbours.
Free boiler upgrade or repair
If your boiler is inefficient you may qualify for a free replacement, including fitting, courtesy of the UK government's Energy Company Obligation (ECO) scheme. You are likely to qualify if you get tax credits and your household income is less than £16,010 and you receive income-based benefits, such as income support or pension credit, you have children, have a disabled person in the household or are over 60. If your boiler is broken, you may be offered a repair instead of a new boiler. Call the Energy Saving Trust advice service on 0300 123 1234 (England, Wales and Northern Ireland) or 0808 808 22 82 (Scotland) and answer some basic questions to check whether you qualify.
If you qualify, you can call a provider for a free assessment. You don't always need to be an existing customer.
E.on: apply online or call 0330 400 1183. See its eligibility criteria. E.on offers a replacement if your current boiler is over 5 years old and is not working properly.
EDF: check EDF's site or call 0800 404 9084. You need to be an EDF customer to be eligible. If the installation requires extra work, such as additional radiators, in some cases EDF may ask for a contribution towards the costs. It will let you know beforehand.
Npower: check Npower's site or call 0800 107 9630.
SSE: fill out an online enquiry form or call 0345 078 3248. See its eligibility criteria. Installations are subject to a survey. If replacing your boiler won't save enough energy to help it meet its targets or there are technical problems, it may ask you to pay something towards the cost. It is worth contacting another provider instead if this happens.
If you are a housing association or council tenant, you do not quality under the ECO scheme but you may have access to replacement boilers through schemes run by your association or council.
Free insulation
Energy firms are offering free cavity wall and loft insulation to certain groups of people, with some providers. If your house was built after the 1920s, it is likely to have a cavity between the internal and external walls that can be filled with insulation. If you are a council or housing association tenant, insulation should be provided through there own schemes. The Energy Saving Trust will be able to inform you whether you qualify (0300 123 1234 in England, Wales and Northern Ireland or 0808 808 2282 in Scotland).
You can call the following providers for a free assessment:
E.on: apply online or call 0330 400 1183. See its eligibility criteria.
EDF: check EDF's site or call 0800 404 9084. You need to be an EDF customer to be eligible.
Npower: check Npower's site or call 0800 107 9630.
SSE: fill out an online enquiry form or call 0345 0783248. See its eligibility criteria.
Cutting your energy bill
Loyalty to energy providers no longer pays. You can reduce your energy bill by ensuring you are on the cheapest energy tariff. Consider 'locking in' to a fixed rate to avoid a higher price (especially if you are on a standard tariff). Also remember that dual fuel deals are not always the cheapest option. Money Saving Expert has a Cheap Energy Club that is free to join and checks whether you are on the cheapest deal. With fixed monthly direct debit payments you can save 5-10%, and any overpayments should be refunded at the end of the year. To minimise overpayments and to reduce the risk of receiving a big bill if your provider has underestimated your energy consumption, take a meter reading every time you receive an energy bill.
You can also reduce the amount of heat lost by:
Insulating your chimney
Using draught excluders
Lining curtains with cheap fleece or installing energy-saving blinds or curtains
Keeping doors closed to stop heat escaping
Insulating your hot water tank
Putting reflective panels behind radiators.
Help from energy companies
Energy Made Clear provides information about help available from energy companies, such as the Warm Home Discount (customers that qualify will get £140 off their electricity bill this winter) and the Priority Services Register (which offers extra services to pensioners, registered disabled and those with long-term ill health).
Government benefits
If you were born on or before 5th August 1953, you could get a Winter Fuel Payment of between £100 and £300 tax-free from the government to help pay your heating bills. You are eligible if you get the state pension or a social security benefit (but not Housing Benefit, Council Tax Reduction, Child Benefit or Universal Credit). Most payments are made automatically between November and December – if you're eligible but don't receive this you will need to make a claim.
You may qualify for a Cold Weather Payment if you are getting pension credit, income support, income-based jobseeker's allowance, income-related employment and support allowance or universal credit. You'll get a payment of £25 for each 7-day period of very cold weather (if the average temperature in your area is recorded as, or forecast to be, 0°C or below) between 1st November and 31st March.
Further information
For more information on government home insulation and heating/boiler grants, go to: