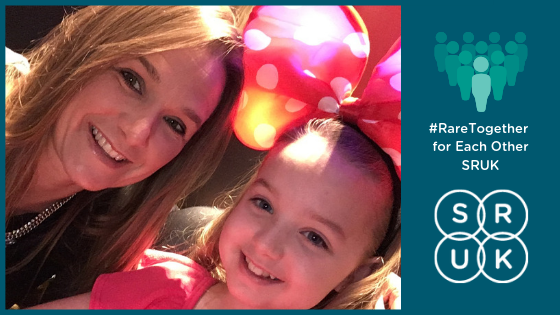 Rare Together: Isla the smiler
Julie's story is the second piece in our #RareTogether feature: a series of articles written by our community that describe their journey with scleroderma or Raynaud's. Keep an eye out for more articles here, or sign up for our E-News to get monthly updates about our new content.
In February 2016 my husband and I took part in a running race. On finishing the race we met up with family. Isla showed us her hands and we were quite shocked that her hands and fingers were so white something that Isla had never experienced before. The same thing happened every day for the next three week plus Isla was unable to even pick up anything slightly cold, walk through the chilled section of a supermarket, and deal with the temperature changes from indoors to outdoors without having an episode. Within weeks Isla also experienced pains in her knees and was unable to join in with friend at playtimes. Following a doctor's appointment (including a blood test Isla) Isla was referred to Birmingham Children's Hospital. The diagnosis at this time was Raynaud's syndrome, positive auto-antibody profile (ANA Anti RNP positive) abnormal nail fold capillaries.
Isla continued to attend regular outpatient appointments at Birmingham Children's Hospital and three months on in May, Isla was starting to experience pains not only in her knees but her wrists too. We observed lumps in the palm of her hands, she was now experiencing frequent tummy aches and had an incredibly low appetite. At this time Isla was also experiencing a number of bouts of tonsillitis and had experienced 5 episodes since December 2015. She had been prescribed a number of courses of antibiotics and had lymphadenopathy associated with the infections.
By the summer 2016 Isla's diagnosis remained unchanged although the hospital suspected that the Raynaud's phenomenon was likely to be secondary.
One year on in February 2017, Isla started to have frequent ankle pain, joint swelling and generally more morning stiffness. On waking Isla was experiencing problems straightening her fingers from a bent position. This could take up to 20-30 minutes to resolve and this would also re-occur during the day often at school and mainly when writing. Despite all measures to stay warm wearing extra; layers, hats and scarfs, heat pads etc. the Raynaud's was still affecting Isla's hands and feet. Her appetite was still poor and she had lost weight since the summer. In terms of movement Isla's wrists were restricted and she was unable to form a fist with both hands. A decision was taken to introduce some medication - Nifedipine for her Raynaud's and Feldine Melts (Proxicam) as pain relief to help with joint pains.
Just weeks later and by the first week in March 2017 Isla had been off school for a week and was gradually getting worse, more joint pains, swellings, stiffness, lack of energy, nauseous, lack of appetite, abdominal pain and headaches. Isla was admitted to Birmingham Children's Hospital following an outpatient appointment for further investigation of a connective tissue disorder supported by an increase in muscle enzymes as well as ANA, ENA and RNP positive with hypergammaglobulinaemia and positive DAT. Following a 9 day stay the tests were unfortunately inconclusive although the investigations were very thorough and included Isla having a chest x-ray, abdominal ultrasound, MRI, haematology assessment, cardiac assessment, lung function test and lip biopsy and much more but the results were confusing and unclear. On leaving hospital Isla's diagnosis was undifferentiated connective tissue.
In addition to treating Isla's medical problems the hospital put in place access for Isla to gain extra support for her anxiety, as she was needle phobic. Isla accessed physical support from the hospital's play specialists, occupational health, psychology and physiotherapy. More frequently Isla needed to be reliant on using a wheelchair, something that she disliked.
By August 2017 Isla had limited mobility because of pain. Isla was really struggling to get around. We found ourselves often caught out needing to carry Isla on our back – from school, to appointments and so on. Isla was now experiencing more problems with her hands including some swelling on her fingers with reduced range. She also had transient lumps on hand and tendon nodules.
October 2017 – An ultrasound of Isla hands and ankles showed widespread inflammation in her joints and around her tendons and as a result of this assessment arthritis and tenosynovitis was confirmed which accounted for the pain and stiffness that Isla was experiencing. The consultant agreed that the Hydroxychloroquine was not working and Isla would benefit from the introduction of Methotrexate and an increased dose of the Prednisolone to 50 mg to induce remission of the inflammation.
By Jan 2018 – Nearly two years on and following the outpatient appointment Isla's consultant was keen to reduce her steroids to 20mg. This was the first time that it appeared that the medication was taking affect, however by the end of January (and the introduction of a reduced dose of steroids) Isla's health changed substantially. She experienced daily discomfort, tenderness, pain and swelling affecting her ankles, hands and jaw causing significant problems gripping, walking and eating. Headaches and tummy aches were frequently present (tummy aches prevalent particularly in the evening causing difficulty with evening routine) alongside daily discomfort across the top of Isla's back. Raynaud's were now visible and a daily occurrence. This was a very distressing time. Isla was incredibly angry.
This was a continual theme until early summer and what followed was a number of infections including two water infections, severe fatigue, joint pains including discomfort in her calves and thighs plus sudden weight gain causing Cushing syndrome. Chicken Pox's was prevalent at the school so for a period Isla started on a 14 day course of Acyclovir which led to Isla being admitted to a local hospital due to sickness. By March the hospital decided to increase the prednisolone again to 30 mg to address the flare up and improve Isla's overall wellbeing.
Unfortunately for Isla in May she was bitten by a tick and was later diagnosed with Lyme's Disease which brought with it another period of illness, time off school and fatigue. By early summer 2018 Isla's diagnosis – Mixed Connective Tissue Disease.
In July 2018 Isla had a lung capacity and a swallow test. This became the final piece of the jigsaw and the hospital was in a position to diagnose (2.5 years since the first episode of Raynaud's).
Systemic Sclerosis
Things haven't eased up much for Isla she contracted a herpes infection whilst on our summer holiday and became very poorly because of the complications with Methotrexate. Her body's reaction to the virus meant Isla was covered in marks across her arms, legs and shoulders. She had herpes on her face, bottom lip and possibly her chest and since the start of August she has generally been unwell, tired, had a cough and currently appears to be having some rheumatoid flare ups.
The support that we get from the hospital is first class and we feel fortunate to have access to such an incredible team of people.
Thank you for reading Julie's story. If you would like to help support others like her daughter, who have been diagnosed with scleroderma, please donate here. You can share your story with us below or join in on on Twitter using the hashtag #RareTogether to join the conversation.