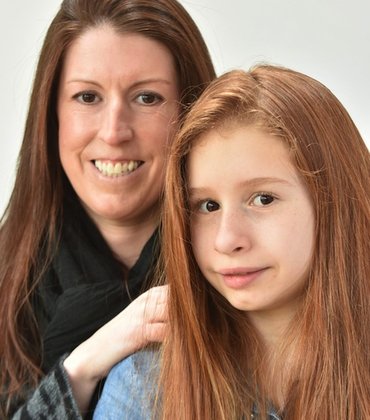 11 year old Daisy fundraises for SRUK
Life as an 11 year old girl in a loving family with a mum who has Scleroderma and Raynaud's.
Here is Daisy's fundraising story:

"Hi, I am Daisy and I'm 11 years old, my Dad is 44, my brother is 7 and my mum is 40, which is well impressive as when my mum got diagnosed with this disease they told her she would have a life span of 10 years. My mum got this horrible disease at 24 and that meant she would have gone at 34 but she is 40 now so she has lived another 6 years which to me is amazing,as if she did go when the doctors said she would I would not have my wonderful funny mummy, and that would just crush my life but everyone who knows her thinks she is one of the magnificent people in this world that have to put up with this disease that is that bad there is no word in any dictionary in the world to describe it.

As scleroderma is the primary disease and Raynaud's is the secondary disease and guess what? ... my mum has it too so that makes her life just hell when she is ill and when she is it does not just affect her it affects us all as a family.

I am raising money by having my long hair cut of to make into wigs for children with cancer from the little princess trust. I am donating all the money I raise to scleroderma and Raynaud's UK to help all the amazing people like my lovely mummy.

Love from Daisy xxx"
If you're inspired by Daisy's story to fundraise yourself then go to our fundraising page listed below.
If you'd like to help Daisy you can visit her fundraising Just Giving page.
And have a look at all the lovely comments our community have left on our Facebook page for Daisy and her mum Lucy.