Skin camouflage for scleroderma
Skin camouflage or skin makeup can be used particularly by people with scleroderma as it can help to change the way the skin looks or cover up areas of discolouration or tightness. We interviewed Helena Rozga about being a skin camouflage practitioner and her experience of applying makeup.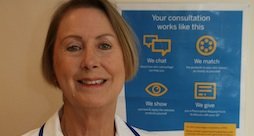 What is a skin camouflage practitioner?
Skin camouflage practitioners are trained volunteers who help people to cover or reduce the visibility of scars, marks and skin conditions, using specialist creams and powder products.
What made you want to become one?
At one of the Scleroderma Society (now SRUK) conferences we invited Changing Faces to be present to demonstrate how they can help people with skin conditions, which can be a symptom of scleroderma. I persuaded two ladies to have a consultation. At first they were a little reluctant but as I knew them well I coaxed them to go ahead as I thought others would follow their lead. They came away from the consultation positively smiling and I will never forget one of them said, "I have lips". I was moved by their experience and spoke to the practitioners in some depth about the service and they encouraged me to volunteer, as I love to paint they thought I would be good at colour matching. I do find it terrifically rewarding and particularly like to help people to cope and take control of some of the cosmetic aspects of having scleroderma.
For many people, living with scarring or a skin condition can have a significant effect on their self-confidence. People often say after the consultation that they feel they have regained some confidence and self-esteem.
What do you do in your role?
As a skin camouflage practitioner, my aim is to cover or reduce the problem area with a cream and powder that best matches the client's skin tone. I then show them how to apply the specialist products to improve the appearance of the affected area. Sometimes I will signpost the client to other organisations that may be able to help or support them in living with their condition.
Clients can self-refer for emotional support and in some parts of the UK people are often referred by dermatologists or doctors. For further information please visit Changing Faces.
What type of people have you supported?
It is not just women that come to the clinic; I have seen many men and of course children. The most common conditions are scarring from birthmarks, surgery, burns or self-harm, vitiligo, rosacea, hyper-pigmentation and telangiectasia.
What has been your best moment as a skin camouflage practitioner?
Every client is special but I can think of one lady in particular who had rosacea for 20 years and never wore makeup and was extremely apprehensive about the consultation. I listened to her and her concerns, matched the skin tone and taught her how to apply the products. When she looked at the finished results in a mirror she was overjoyed and in tears and said " to think I have put up with this for 20 years and didn't have to". She was meeting a friend for lunch so we applied a little lipstick too. She went out of the clinic a different person knowing that she could control the appearance of the rosacea.
How do clients access the service?
Clients can access the service through a referral from their GP, hospital, consultant or dermatologist. Alternatively, please visit the Changing Faces website or changingfaces.org.uk/skincam and self-refer to their nearest clinic.
Clients can self-refer in some parts of the UK. In others, the service is restricted or the referral has to be made by a health professional. All of the information is on the website.
Changing Faces also supports people with the emotional and social effects of looking different, through their counselling service.
The service Helena is referring to is our support, information and advice service, which includes the Changing Faces Practitioners service. They provide confidential emotional support, information and advice, often in the form of 1:2:1 sessions in person or over the phone for a period of weeks or months.
The Changing Faces website has more information about this service or you can email support@changingfaces.org.uk or call 0300 012 0275.