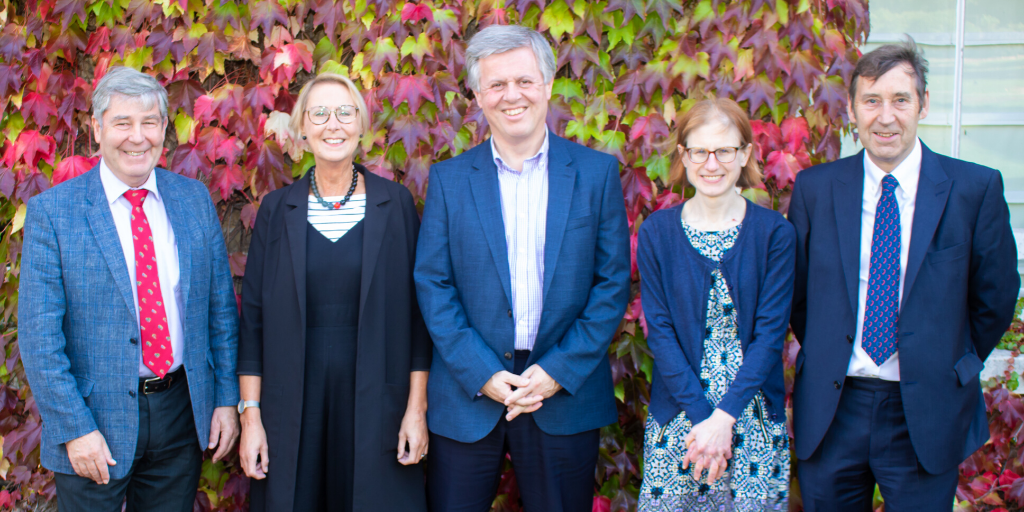 Our trustees
Meet our trustees – they bring a wealth of knowledge and experience of Scleroderma and Raynaud's to the task of governing and guiding SRUK:
Jeremy Pearson
Jeremy's background is in scientific research that has furthered our understanding of scleroderma and Raynaud's. He is Associate Medical Director (Research) at the British Heart Foundation, and also spends some time in academia as an emeritus Chair at Kings College London. He was elected as a Fellow of the Academy of Medical Sciences in 2004 and an Honorary Fellow of the Royal College of Physicians in 2006. He became Chair of the RSA in the lead up to the formation of SRUK, and continues his work with us as a member of the board of trustees.
Helena Rozga
Helena had a busy and enjoyable career in Human Resource Management as an HR Director. Her diffuse systemic sclerosis interrupted this career in 2003. Later, she went on to lecture in Human Resource Management on a part time basis at UEL and undertook local community voluntary work.
She volunteered on the Scleroderma Society helpline and became helpline manager in 2010. During that year she worked to obtain accreditation for the helpline through The Helpline Partnership.
She became a Trustee with the Scleroderma Society in February 2012 and also volunteers with the charity Changing Faces.
David Scott
David was appointed Consultant Rheumatologist at the Norfolk and Norwich University Hospital in February 1988 and Honorary Professor to Norwich Medical School, UEA in 1998. He "retired" from his NHS post in July 2011, and is now an honorary consultant. David is a former President of the British Society for Rheumatology. He has a long-standing interest in systemic vasculitis and the rarer connective tissue diseases, and has written and lectured extensively on the subjects.
Chris Coombe
Chris is a qualified chartered accountant and brings over 30 years of financial experience to SRUK. He has lived and worked in various locations in the UK, Asia, Australia, the US and the Middle East. His business experience ranges from being a chief executive for a start-up to being the chief financial officer for Fidelity International, a global investment manager. This is his first venture into the voluntary sector and he is excited to have the opportunity to help minimise the impact of Raynaud's and Scleroderma on peoples' lives.
Susie Hoare
Susie believes the role of charities is vitally important – both for raising funds for research into rare conditions such as scleroderma and Raynaud's, and for providing reliable and trustworthy information and support for those affected. As a trustee of the former Scleroderma Society, she had the privilege to see the positive impact the charity was able to bring to so many people, and she wishes to ensure that SRUK continues to build successfully on that legacy. Susie's background is in the language industry as Production Manager in a translation company, and on a personal level, she is a keen amateur runner, cyclist and traveller.
Barry Hicks

Barry is a retired Chartered Surveyor and was formerly a trustee of the RSA for over 20 years. He has personal experience of scleroderma as his wife, Sheila, had the condition and was a member of the association when Barry was recruited to the RSA board of trustees. Barry continued his active involvement with the RSA after Sheila passed away in 2005, and will now continue to participate as a trustee of SRUK.