Personal Independence Payments explained (PIPs)
Personal Independence Payment (PIP) is a benefit paid to people who have daily living and/or mobility needs, designed to help with the extra costs of living with a long-term illness or disability.
Receiving PIP does not reduce other benefits; it may even increase them. If you have a carer then claiming PIP may help them to qualify for certain benefits, including Carers Allowance. PIP may also entitle you and/or your carer to further help with council tax. There are no restrictions on how you can spend your PIP money, and you do not have to use it to pay for the care that you need. However, your council or trust can take PIP into account when calculating how much you might need to pay for any care services you receive.
PIP can be paid regardless of your income, savings or National Insurance contribution record and is a tax-free benefit. You can get PIP even if you are working or studying. If you are a carer who has care needs, you can claim PIP for yourself and this will not affect your Carer's Allowance.
How much is PIP worth?
Your PIP could amount to between £21.80 and £139.75 per week - this depends on how your condition affects you specifically, it is not based simply on the condition itself.

For specific queries, please contact the PIP Government Helpline.
There are two components of PIP:
The daily living component: this helps to cover the extra costs that you may face if you need help doing everyday tasks
The mobility component: this helps to cover the additional costs that will arise if you have difficulties in getting around
Each component can be paid at either standard rate or enhanced rate. The rate that you receive depends on whether your ability to carry out activities is limited or severely limited:
Standard rate: this applies when your ability to carry out daily living/mobility activities is limited by your physical or mental condition
Enhanced rate: this applies if your ability to carry out daily living/mobility activities is severely limited by this condition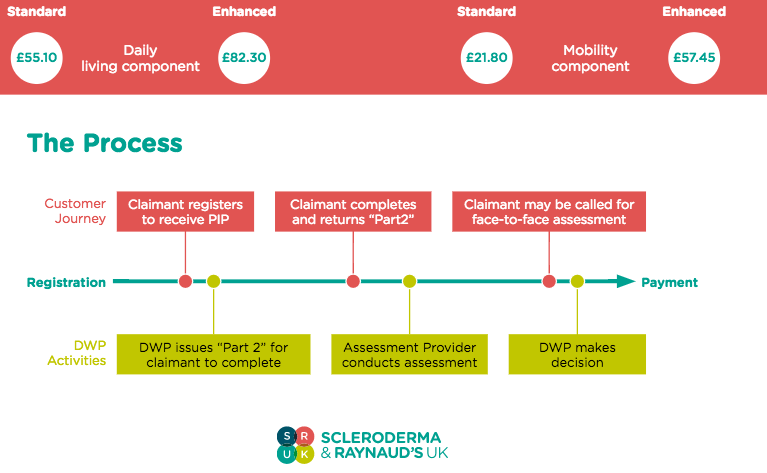 What to expect from your assessment
"With fatigue, brain fog, pain or low mood it can be difficult for someone to articulate just how difficult things have become. On top of that, we want to appear positive. I found when helping people with their appeals that what has been said by an individual can be interpreted very differently to what is meant, perhaps to fit the assessor's own perceptions."
At the face-to-face consultation, the healthcare professional will ask questions about your day-to-day life, your home and how you manage at work if you have a job, as well as about any social or leisure activities that you engage in (or have had to give up). They will often ask you to describe a typical day in your life and go through a list of activities, descriptors and pointers, so it is worth looking at these and formulating your answers before you go. When answering, explain your difficulties as fully as you can, including ALL symptoms at their worst and try to word answers in a way that leaves no room for misinterpretation.
Tell them about any pain or tiredness that you feel, or would feel while carrying out each activity, as well as afterwards
Consider how you would feel if you had to do the same task repeatedly
Tell them if you need reminding or encouraging to complete an activity
Do not overestimate your ability to do things. If your condition varies, let them know about what you are like on bad days as well as good days. The healthcare professional's opinion should not be based on a snapshot of your condition on the day of the consultation; they should consider the effects over time. Before the consultation ends, they should give you an overview of their findings and invite you to ask questions and add or clarify anything that is relevant. You will not receive a formal decision on the day on whether you will be awarded PIP. The Department for Work and Pensions (DWP) will make the decision about your claim based on the results of the assessment, your application and any supporting evidence that you include, and you will be given a score based on how much help you need. The more help that is needed the higher the score will be, so it is important to really stress how the condition affects your daily life in the worst scenarios. The DWP will send you a letter once they have made their decision, explaining why you do or do not qualify for PIP. You will usually be notified of the outcome around three weeks after your assessment. If your claim is successful, you will be paid from the date the claim is registered, so it is important to begin proceedings as soon as possible, as the whole process may take several months from starting the application process to actually receiving any money.
You can appeal if you are unhappy with the decision, and the steps for this can be found on the DWP website, or in the documentation accompanying the application form. There is also some useful information on our website, with a link to 'Advice Now;' an organisation specifically set up to assist with mandatory reconsiderations and appeals. A copy of the table, activities and points used by the assessors is available online. For further information, a guide to applying for PIP and information on other healthcare schemes you may be eligible for, please visit our UK Welfare benefits section.
About Personal Independence Payment (PIP)
PIP replaced Disability Living Allowance (DLA) in 2013.
When applying you must be of working age (64 years and under) and will be assessed on your daily living and mobility needs. You must satisfy a daily living and/or mobility activities test for three months beforehand, and be likely to satisfy the test for a further nine months after making the claim.
Like DLA, you can receive PIP irrespective of work status and can spend it as you wish. There are two components – a daily living component and a mobility component. Each component has two rates – 'standard rate' for limited ability and 'enhanced rate' to reflect severe limitation. To receive PIP you must undertake 11 test activities, upon which you will be scored. To obtain the 'standard rate' PIP component you must score eight points, and 12 points for the 'enhanced rate'. These activities take into account your ability for daily living, for example general mobility, preparing food, managing your health conditions, washing and bathing, dressing and undressing and communication. View a detailed list and the point scoring system here
Having a lifetime DLA award will not exempt you from undergoing a PIP reassessment. The PIP assessment resembles the Work Capability Assessment. To begin with, an independent health professional will look at your claim and accompanying medical evidence. You will usually have to attend a face-to-face interview with the assessor, and you can take someone with you. The assessor will then inform the Department for Work and Pensions, who will decide if you are entitled to receive PIP, and if so, the rate and length of your award and the date when it will be reviewed. You could receive a short-term award for up to two years, or for a longer term of up to 10 years, when you are likely to be contacted to see if your needs have changed.
Useful links: