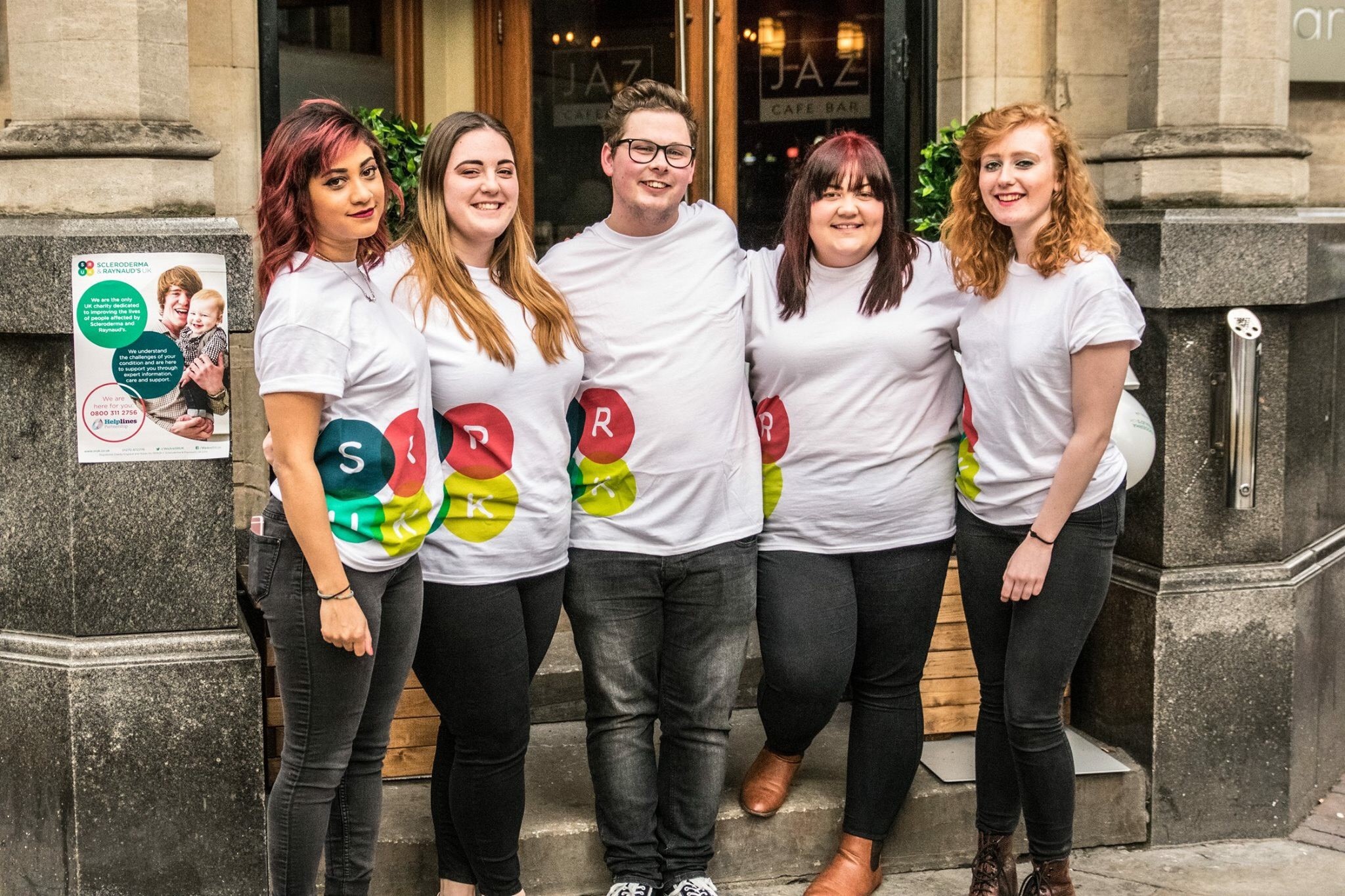 How can university students help those with scleroderma and Raynaud's?
There are lots of ways for you to get involved with SRUK while you study and lots of great reasons to! You could make a huge difference, raise awareness, help fund research, improve your CV and have fun all at the same time.
You can get involved with SRUK in a number of ways:
Set up a Scleroderma & Raynaud's Society
Universities are the perfect place for people to volunteer, this is an opportunity for you to recruit like minded people, maybe your group of friends together and raise awareness about a cause that's close to your heart.

We can arrange personal talks from patients with the conditions, give you resources for your events, all the information about the conditions you will need and even a how to guide to establish your society.
Not only is this a great way to help raise awareness about the conditions but its also an opportunity for you to set yourself apart and add an impressive achievement to your CV.
Become a Student Ambassador
You will be a champion and representative for the charity from promoting our events, to raising awareness and getting people involved in activities during our awareness months. Your aim will be to raise the profile of SRUK and our conditions at your university and within the local community.
Start RAG fundraising
Most universities have a Raise and Give group (RAG), who fundraise each year for one or multiple charities, the charities are often picked in a student vote, you could nominate Scleroderma & Raynaud's UK as the charity of the year, we have a wide range of volunteering and events you can get involved with as well as guidance on how to arrange your own. We will support you in any way we can just get in touch.
Organise an event for us
We don't have to be your charity of the year for you to get involved, you could organise a one off event. Organise a quiz night, a wax off, a dry January, a ball or a marathon of your choosing, Swimathon, Rowathon, Rideathon etc. with a student union and lots of meeting rooms at your disposal organising an event has never been easier.
Hold a Cosy up with a Coffee event or a bucket collection at your local station or supermarket, if you want guidance on how to organise one of these events we are here to help.

Join an event
We have a wide range of challenge events available from Bungee jumps to tough mudders and colour runs so you can always put a team forward and fundraise for us that way.
How ever you choose to get involved with SRUK at university we are here to help, to talk you through a particular process, or to offer advice, just get in touch and make sure to let us know about any event you chose to organise. You can see more of our events here.
How we can support you:
We're here to support you and your RAG every step of the way to help you reach your targets while developing new skills. We'll be on hand to talk through your events, offer guidance and suggestions, as well as:
An A – Z list to of student friendly activities to inspire and help you plan ahead.
Access to all our fundraising materials and stash, including t shirts, running vests and totes!
A talk from one of the team about what we do, why we do it and how your support makes a difference.
Exclusive volunteering opportunities across the charity
References to help your CV shine
Please email us for more information on any of the above information or call 02038935993