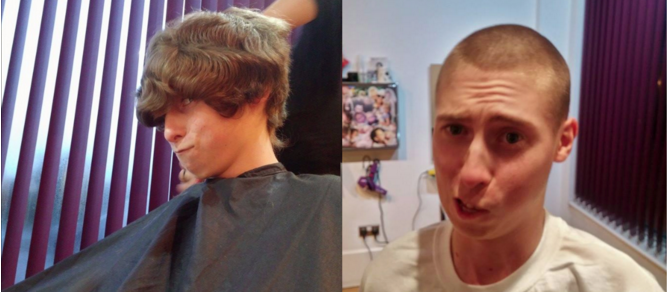 Mathew Barry's Brave Shave
Mathew has been affected by a multitude of conditions from an early age including Raynaud's, he decided to support everyone affected though some good humour and a fundraising hair cut!
"I do try to look on the bright side of things because being fed up will not change anything. I decided to raise money for SRUK to raise awareness of the condition and to make a statement. My parents are always telling me to get a haircut! So, I thought I would and raise money and awareness for a condition that affects me every day, at the same time."
Mathew Raised over £2000 pounds and was featured in local press.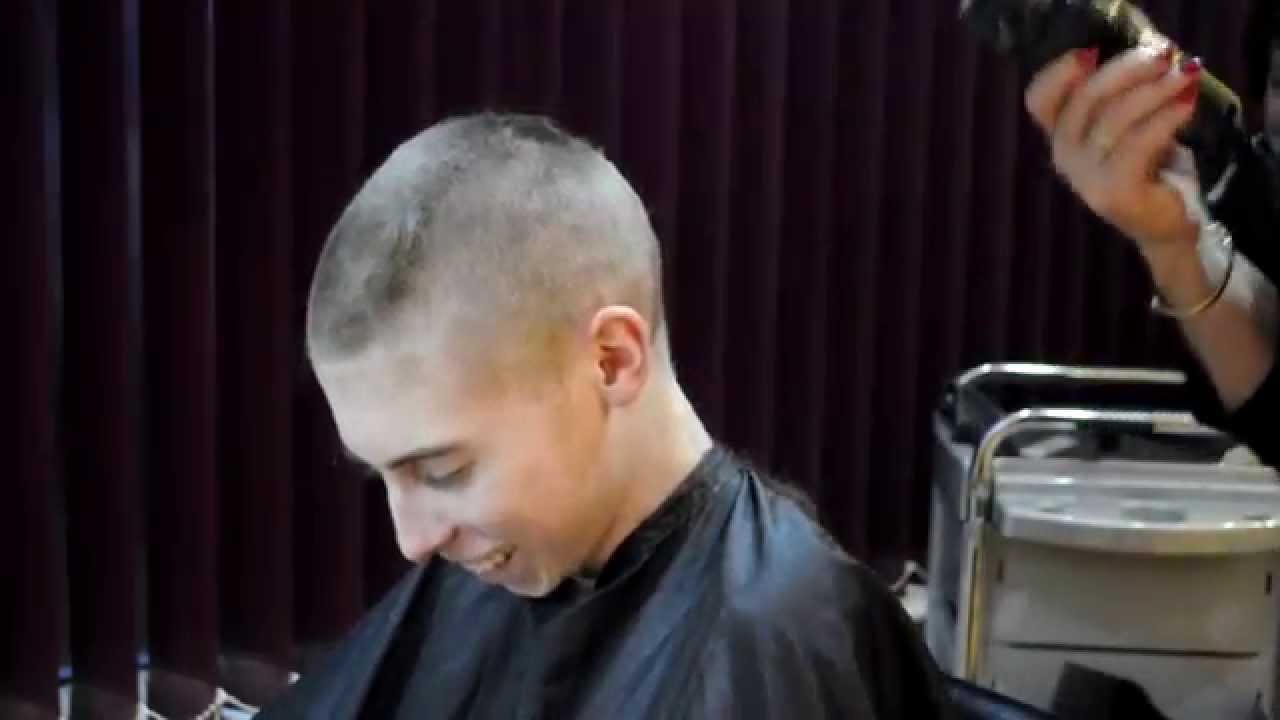 Mathew (17) lives with his Mum, Joanna, Dad, Darren and has a brother, Liam (19) who is at University in Plymouth. Mathew and his mum talk about how he has been affected by a multitude of conditions from an early age, how school have accommodated his absence and how he became the talk of the town after a fabulous fundraising activity.
Joanna: Raynaud's started to affect Mathew around the age of four he would just cry for no reason, or so I thought. Then we noticed his fingers were frequently blue/white at the ends, inflamed and became very painful when hit against objects, making daily tasks very difficult.Then at the age of six Mathew spent 5 days in hospital with an infection and immediately after this he started to get very achy all over his body and certain food, caused him pain when he swallowed. In the early days he had a lot of pain, his glands kept swelling up, he was tired all the time. All this was very slow progress with nothing really big enough to warrant taking him to the doctors, but during this time the Raynaud's really affected him.
Mathew: Mum took me to our doctors, who said that it was Raynaud's and if we went to see a consultant they would put me on tablets for the rest of my life, which was very hard to take in or understand, as I was very young. Even though I felt a bit anxious at the thought, I still wanted to see a consultant as the pain was so unbearable. When we saw the consultants' they took one look at me and said I had Raynaud's and scleroderma, so we got booked in for an echocardiogram and referred to The Royal Free.
Joanna: I'm very grateful to two local consultants who diagnosed Mathew and sent us to see Professor Denton at the Royal Free who referred us to GOSH, as Mathew was only 9, he needed paediatric care. Mathew was put on Methotraxate, nifedipine and folic acid. Over time we tried various combinations of drugs and he is now on mycophenolate (MMF), nifedipine, esomprazole, ranitidine and domperidone. Now, 17, for the last six years the main problem has been the oesophageal strictures and food getting stuck. I have lost count how many dilatations he has had and recurring problems during his early teens he also had a stent fitted but lost 2 kilos while this was in because he didn't want to eat. I didn't realise how much of our life revolves around food and eating until Mathew couldn't. Mathew also has a needle phobia, which makes monthly blood tests and sedation very stressful, but thanks to a nurse at our doctors things are a little easier. Mathew has had a PEG (feeding tube) to take in extra calories via fortified milk, for about 4 years but as it kept getting infected he now drinks the milk. Mathew and and his brother have a visual impairment called ocular albinism and both are registered blind. Our family, especially my sister Catherine has given us a lot of support through this journey, she has accompanied us on the long days when we've travelled to London had an oesphageal dilatation and travelled back, exhausted, and been there when I've needed extra support.
Mathew: I'm a student at Bexhill College, on the first interview to get in, I told the learning support coordinator that at secondary school I rarely attended a full week because of fatigue,s o because of this I'm only studying 2 subjects, instead of 3, this benefits me because I now have more time off college to recouperate and sleep, although I'm still struggling through the year with only 2 courses. The college has been very supportive when I joined, as my condition is almost invisible and I don't like to bring it up too much, they give me space and when I need them they are there for me and are very understanding if I need time off. At college I study Music performance and Fine Art, I really enjoy both and hope to have a career in one. I play guitar in a band at college and one out of college, so I need lots of practice! However, when I have finger ulcers it's not possible to play guitar as it is heavily dependent on your finger action. I play with a band called The Geoff Bellhouse Band, playing gigs around the East Sussex area. However, the gigs last 3-4 hours, with only one break which takes a toll on me and I get very tired and achey from standing with a guitar on my shoulder, but I don't let the ulcers or fatigue stop me from doing what I love. Art on the other hand, is quite relaxing, I can do that when I am tired or having a 'rest' day, I've been drawing for as long, as I can remember and have got better over the years. I'm hoping to continue these hobbies going into work, as they are both subjects I enjoy.
Joanna: Mathew is a 17-year-old boy who should be out with his friends and enjoying time with his family but things can't just happen out of the blue, they must be planned. Mathew has a brilliant group of friends who know his limitations and will make sure when on a sleepover he gets the bed, and they have pizza in for him. He does need time to re-couperate after a trip out. I think the fatigue was the most difficult thing for us to understand and it was difficult for me to let him stay at home just because he was tired. When we saw Prof Denton at a local Hospital and he said "it's ok to do a 4 day week and rest the other day" it was such a relief to be told this as I was made to feel as though we were failing. Mathew attended Rye College for his secondary school in the final year he dropped 2 subject in his GCSE's so did six and passed them all! I have to admit I shed a tear, because it meant he could go to college and do the Art and Music courses that he wanted.We are now transferring from paediatric to adult services and hopefully under the Royal Free and UCLH full time. We have met some great doctors and nurses along the way and will be eternally grateful for the support.
Mathew: I am seen by Dr Lopez at University College Hospital, Chris Denton at the Royal Free and our local hospital The Conquest also know me quite well due to peripheral visits. I am quite happy to get away from the paediatric care after plenty of visits there, being 17 and visiting departments of hospitals with Disney characters and pretty flowers painted all over the walls is quite embarrassing. The UCLH has a wide range of patients so I presume I will be going there for the foreseeable future. Joanna:Mathew has a massage once a month on his back as this gives him a lot of pain. He also went through CAMHS for his needle phobia which, sadly didn't help.Mathews attitude towards his situation is very matter of fact and we are very proud of him for dealing with it day to day in the manner he does. His words "very annoying but unfortunate, there's no getting rid of it" ring true, you just have to get on with it, so we do! We try and make the best out of every situation and try and have a laugh along the way. He is an amazing young man who makes me proud even when I'm having to drag him out of bed in the morning.
Mathew: I do try to look on the bright side of things because being fed up will not change anything. I decided to raise money for SRUK to raise awareness of the condition and to make a statement. My parents are always telling me to get a haircut. So, I thought I would and raise money and awareness for a condition that affects me every day, at the same time.
Joanna: We were all watching as Mathews locks were shaved off, it was a very empowering stance to take and it certainly got people talking. We were in the local paper and raised £2,000, considering he loves his hair so much it was a really big deal. Liam made a video of the event which can still be viewed on youtube, Mathew's brave shave. We are now trying to think of something else to do, so answers on a postcard please!I do worry about Mathew's future but continue to be positive, I hope he is happy in whatever he does and stays on an even keel and the disease doesn't progress too much. I also hope there is eventually enough knowledge and understanding for scientists/doctors to get a cure so people with the condition are not robbed of having a good quality of life.