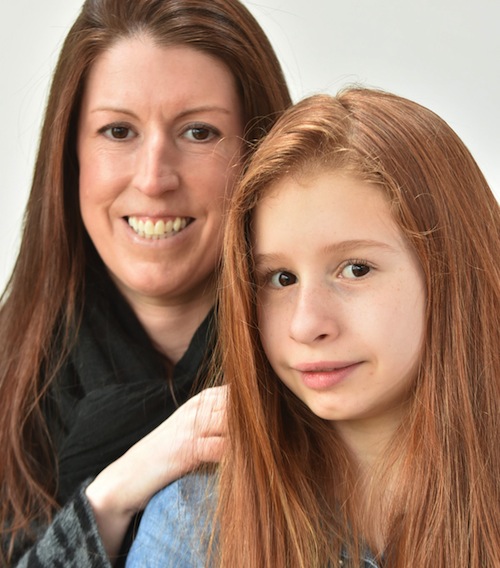 Daisy is chopping her hair off in celebration of mum, Lucy.

Lucy and Daisy were featured in the York Press raising awareness of the conditions and why young Daisy is fundraising for SRUK.

Year six pupil Daisy Sephton will be cutting off her long hair to help other people with the same condition as her mum, Lucy.
Inspired by her mum's courage in the battle against her scleroderma, Daisy, decided to cut off her long hair to raise money for Scleroderma and Raynaud's UK. And she has already raised £3,000 towards her target.

Daisy's mum Lucy was told she would never be able to have children when she was diagnosed with Scleroderma and Raynaud's at the age of 24.
Lucy was delighted when she became pregnant with her daughter Daisy and a few years later, her son Elliot, even though the pregnancies made her very poorly.
Lucy has been inspired to speak out about her condition on Mother's Day thanks to the bravery of her 11-year-old daughter in the York Press.
The autoimmune conditions mean the body attacks itself. The painful diseases cause hardening of skin, joints, tendons and internal organs. Blood vessels are also affected and patients' hands often turn blue
Lucy said: "I was told I wouldn't be able to have children so they are little miracles really.
"They have probably kept me alive through this, I get up every day for them."
"I count my blessings. I thought, I have two options really – I can sit and mope and worry about what the future holds or I can try to live my life and make the most of what I have got."
Lucy, who also works for the NHS helping children with complex health needs, said being a mum while managing the symptoms of her condition can be a challenge.
She said: "It's not a nice disease at all, it's completely changed my life. At first I couldn't move or walk very far and I found it difficult getting dressed. I found that things everyone takes for granted, I couldn't do anymore."
"There have been good times and bad times."
"It can be really difficult to be a mum with this disease. Every day can be a struggle, even just walking around the shops can leave me aching. I don't live a very exciting life because of it."
"I couldn't do it without my husband, my children and my family."
Lucy said: "I'm quite a private person, I still have friends who don't know I have anything wrong with me. I wanted to blend in and be the same as everybody else."
"But Daisy is fundraising to raise awareness and it has helped me to face up to it."
"She is one of a kind. And if it helps other people then it's worth it."
"I think it's a very brave thing to do, it's amazing."
Lucy said she was moved to speak out about her condition by the bravery of her daughter, who will have her hair chopped off in front of her entire school on March 28. Her locks will then be donated to children's cancer charity, the Little Princess Trust.
To sponsor Daisy and Scleroderma and Raynaud's UK visit her Just Giving page.
Have a look at all the lovely comments the community have sent Daisy on our Facebook page.