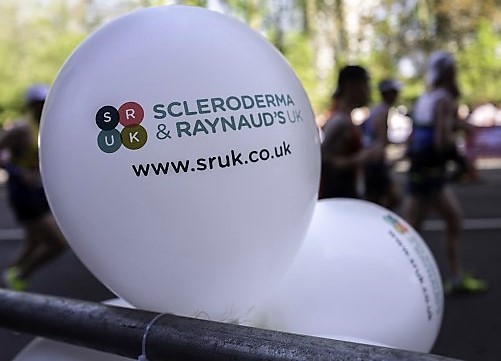 Fundraise in celebration for SRUK
Celebrations that bring your friends and family together provide the perfect opportunity to support Scleroderma & Raynaud's UK. From birthdays to anniversaries and even on your wedding day – asking your loved ones for donations to SRUK instead of gifts to mark your special occasion is a generous and thoughtful way to help us fund research.
Fundraise at your birthday
Get people to give donations in lieu of gifts for a gift that really keeps giving, ask your guests to make a donation to Scleroderma & Raynaud's UK on your birthday, wedding day or anniversary event instead of buying a present. To make it simple for your family and friends to donate just set up an online giving page. Make sure you gift aid if you can.
If you're having a party we can supply collection boxes or donation envelopes to have at the event, You can also tit the party out with lots of different materials - balloons, pin badges and banners are all available! get in touch to see how we can help.
Fundraise on your anniversary
Celebrate your marriage and include Scleroderma & Raynaud's UK in your special day:
Get your friends and family to give donations in lieu
Have collection pots for donations at the event
Fundraise at your wedding
Giving your guests our special pins as wedding favours is a meaningful way to support people affected by Scleroderma & Raynaud's, while helping to make your big day extra special. Please get in touch to request yours or order your wedding favours today on our online shop.
It would mean the world to us if you were to choose Scleroderma & Raynaud's UK to be a part of your special day. and there are a few ways in which you can do so. We would love to speak to you to and talk about the best way to support you, please call us on 02038935993 or email us at fundraising@sruk.co.uk
Every penny you raise will make a real difference to the lives of those affected and living with Scleroderma and Raynaud's in the UK.