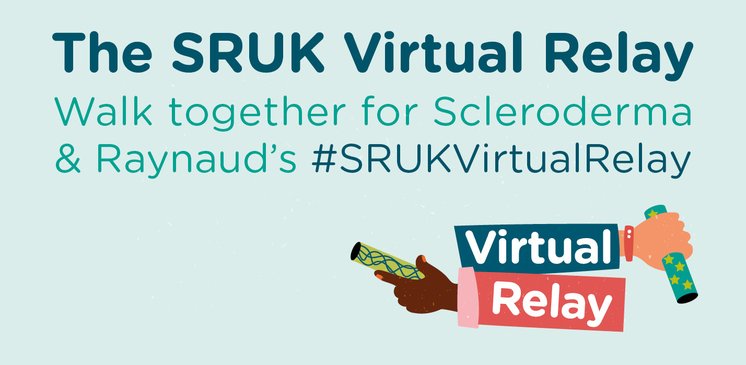 Take on our first ever Virtual Relay Walk in June for Scleroderma Awareness Month and help us raise £19,000
It couldn't be easier, this is your walk, your way. Whether you choose to walk in the park in the garden, in the house, any distance, on your own or with your household - however it happens - we walk together for scleroderma and Raynaud's. Find out how easy it is with this useful guide to get you started.
Then sign up below and we will send you useful tips as well as how to get your virtual medal!
All you need is your homemade baton - it can be anything you choose, bling up a toilet roll tube, a water bottle, a Pringle tube or anything you like - be creative or not! We have put together a video to give you some tips!
When you have walked - pass the baton on virtually - nominate your friends, family, colleagues or neighbours. Continue the community spirit and share your pictures, videos and stories with us #srukvirtualrelay #srukpassiton
Walking in memory, walking in appreciation, walking in support – we are united even though we are apart.
We were inspired by Una Gillespie who did a 40km virtual walk by completing 10km every week for 4 weeks. Her friends and family joined her virtually from across the country and the world. Una has Diffuse Scleroderma which affects her skin, internal organs including her lungs so this is an amazing achievement anyway but on top of that she has raised over £5,850. In this video, Una tells you why you should take up the baton and continue the walking.
Sign up for the SRUK Virtual Relay Walk