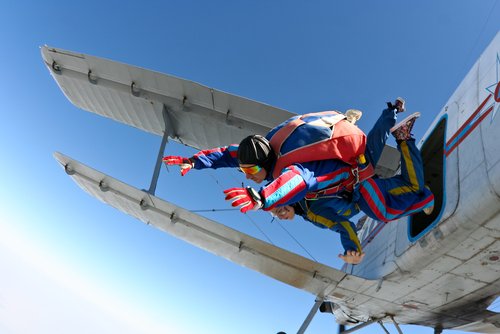 Our skydives take place all year round on a range of dates and location across the country.
Imagine the thrill as you leave the plane at over 10,000ft, accelerate in free fall from 0 to 120mph and fall through the sky for over 5,000ft. Then the silence and tranquillity after the parachute deploys, and the amazing views as you gently glide down to earth.
All we ask is that you raise a minimum sponsorship of £395* for SRUK.

Registration Fee: £70
Minimum Sponsorship: £395 (*£450 Scotland and NI)
How it works
Choose the skydive venue and jump date that suits you best.
Your training and skydive are completed in one day.
You jump harnessed to a parachute instructor, who controls free fall, parachute opening and landing.
Have the chance to steer the parachute onto the drop zone.
Certificate of Achievement.
If you raise a minimum of £395* you can jump for free!
Restrictions
For a tandem skydive:
You must be at least 16 years old.
You must be under 15 stone in weight (please note some centres have lower weight limits).
The principle medical restrictions are:
Diabetes, epilepsy, fits, recurrent blackouts, heart or lung disease, mental illness and some cases of asthma.
You will be required to sign a medical form before your jump declaring your fitness to take part – this will be sent to you upon receipt of your reservation.
Those under 18 will need the medical form signed by a parent or guardian.
Those aged 40 or over, or those with a medical condition, will need it signed by their doctor.
Fundraising support
When you sign up, you'll receive a fundraising pack to support you with your fundraising.
You will also receive regular email updates with useful hints and tips about how to reach your fundraising target.
We recommend you break your target into manageable chunks and create a plan to help you reach your goals.
Online fundraising
It's the easiest way to get sponsored. Let everyone know why you're taking part and update your page with photos and videos. Share your page on Facebook, Twitter and by email so your family and friends can sponsor you .
How to secure your place

Click here to book your place on the Skyline website.