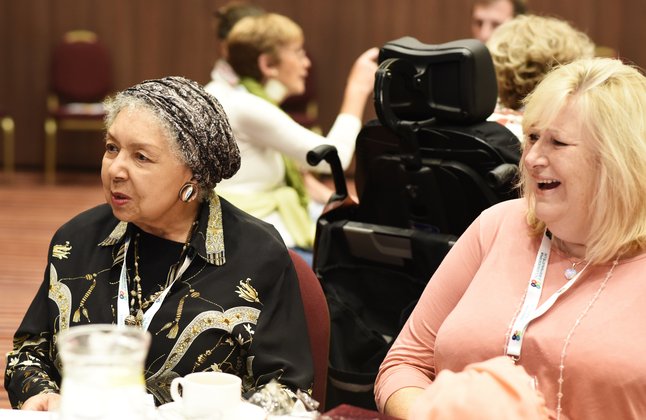 You will hear talks from Dr John Pauling and other members of the Scleroderma clinical team on subjects such as the methods we use to diagnose and predict the disease course in scleroderma and the treatment approaches we use to manage the symptoms of systemic sclerosis and prevent it from getting worse.
The Lecture Hall, Royal National Hospital for Rheumatic Diseases, Upper Borough Walls, Bath, BA1 1RL
Programme:
10.00am Registration & Refreshments
10.30am The Tools we use to diagnose SSC and Dr John Pauling, Consultant how they predict the future Rheumatologist, RNHR
10.50am Managing Raynaud's phenomenon Dr Vicky Flower, SRUK Research Fellow, and digital ulcers. RNHRD and Sarah Smith, Clinical Nurse Specialist in Rheumatology
11.20am Short comfort break (10 minutes)
11.30am Hand physiotherapy and fatigue Sandi Derham, Senior Occupational management Therapist, RNHRD
12.00pm Physiotherapy and exercise Jade Skeates, Specialist Physiotherapist Rheumatology, RNHRD
12.30pm Lunch (45 minutes) An opportunity to network and meet other patients
1.15pm Patient Engagement Mel Brooke, PPE Director, BIRD
1.30pm Systemic Sclerosis related lung Dr Rob Mackenzie Ross, Respiratory disease Consultant, RUH
1.50pm Short comfort break (10 minutes)
2.00pm How systemic sclerosis affects the Dr Jonathan Quinlan, Consultant gastrointestinal system. Gastroenterologist, RUH Bath.
2.20pm How you help us to improve lives Amy Baker, SRUK (Scleroderma and Raynaud's UK)
2.30 pm Question and Answer Session Panel of Experts. *Please send any questions in via the email below in advance of the event.
2.55pm Meeting Close **Please hand in feedback forms.
Places are limited and need to be booked in advance, please contact Frances Carroll or Fran Staples on
07763 743322 / 01225 336363 or email
Admin@birdbath.org.uk
This event is hosted by the Royal National Hospital for Rheumatic Diseases in collaboration with PPE
(BIRD). Supported by the RNHRD Charitable Fund and The Hospital Saturday Fund & sponsored by Eli Lilly UK and Company Limited. Also, many thanks to our printing partner Minuteman Press Bath.
More information about the event.