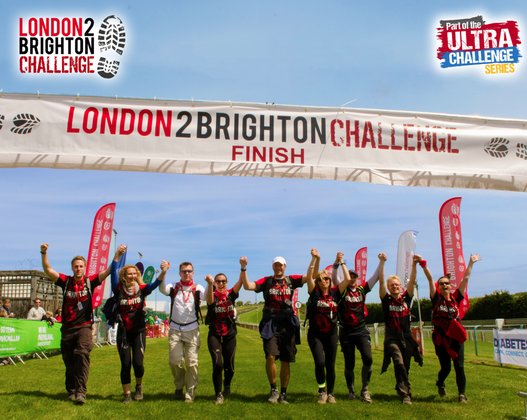 London to Brighton Trek; multiple lengths
SIGN UP NOW & GET UP TO 33% OFF THE REGISTRATION FEE
Charity Sponsorship – 33% OFF Registration Fee – discount code MARCHCHARITY
Mixed Funding – 17.5% OFF Registration Fee – discount code MARCHMIXED
Self-Funding – 15% OFF Registration Fee – discount code MARCHSELF
25 / 26 May 2019
The London to Brighton Challenge will be in its 8th year in 2019. Over 2,500 adventurers of all experience levels and ages will take on this classic Capital to Coast route, testing their grit and determination - and all out to push themselves further. Most will Walk, but many will Jog or Run the full 100km, and with half & quarter distance options also there's a challenge here for everyone.
From the Richmond start it's over the North and South Downs with wonderful Surrey & Sussex countrside before the welcome Brighton coastline comes into view - and you'll get full support and hospitality all the way to the your finish line.
Join 2,500 others of all ages and experience for an unforgettable challenge over the Bank Holiday weekend.
You can pick the distance of your choice and also how you wish to pay, the more you pay the lower your sponsorship target.

Charity Sponsorship starts from: £5 Registration and £245 Sponsorship.
Mixed Funding starts from: £39 Registration and £119 Sponsorship.
Or Self Funding starts from: £79 Registration and no set sponsorship target, you decide yourself.
Route Options:
Full (100km) Challenge continuous or camping at half way (Weekender option)
Half (50km)
Quarter (25km)
You'll get full support and hospitality all the way, leaving you to focus on your challenge.
Join as an Individual or as a Team
Choose a distance that suits you
Walk at your pace- 24+ hours
Jog or run and set a new goal.
Rest stops with free food & drink
Fully signed route
Medics, massage, and pace walkers
Medal, T shirt, glass of bubbly
Training & guides to help you prepare
Find out more about the route, support, and hospitality.
You can sign up for the event here
Fundraising support
When you sign up, you'll receive a fundraising pack to support you with your fundraising.
You will also receive regular email updates with useful hints and tips about how to reach your fundraising target.
We recommend you break your target into manageable chunks and create a plan to help you reach your goals.
If you have any questions, please contact us on fundraising@sruk.co.uk
Register your interest today