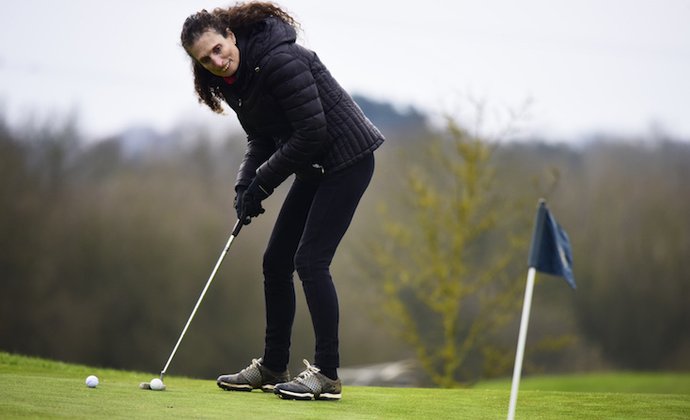 The only Seve Ballesteros course in the UK will be hosting our charity golf day, one of our first events as SRUK. All profits raised from the day will contribute towards funding life-changing programmes for people with Scleroderma and Raynaud's.
The Course
From the moment that Severiano Ballesteros first created his vision for The Shire London in 2002 to the present day, 'The Shire' has never been far from the headlines. Play Seve's only course in the UK, and you will discover why.
Immaculately conditioned. No two consecutive holes the same par. Six threes, six fours, six fives. Links holes, parkland holes, and dramatic water holes. Over 10,000 mature trees. Multiple tee positions, to suit all abilities. Seve's masterpiece will amaze you, and it will definitely challenge you, but it will also always entertain you, as its architect wanted.
The Package
You will enjoy a round of 18-hole golf on the course.
There will be a shotgun start on the day to ensure players can enjoy the full beauty of the course.
After all players have finished, you will enjoy a two-course meal served in the clubhouse.
A team of four players can register for the event at £300.00 a team.
Individuals can also register for the event at £85.00 per individual.
On the day you can also enjoy a range of special extras including:
Beat the Pro: have a go at getting your shot closer to the hole than a pro player
Mulligan Balloons: the opportunity to re-take a shot to get the best score possible
Awards ceremony including awards for best individual player and best team
The opportunity to win some spectacular prizes at the Golf Day raffle
Join our Charity Golf Day and help fund our vital work
All profits from our Charity Golf Day will be invested into our life-changing programmes.
SRUK is dedicated to funding research that delivers effective treatments for Scleroderma and Raynaud's. Since 2011 we have invested over £2 million into innovative research and treatment options.
By joining the charity golf day you will help us to invest even more into research each year as we work to find further treatments options that limit the effects of Scleroderma and Raynaud's.
Hannah's Story
"I have Diffuse Systemic Sclerosis, with an overlap of liver problems and Lupus. I was diagnosed in 1993 and as far as I was concerned my life was over, I was only 32 years old.
"I had just adopted a beautiful baby boy but the condition hit me like an express train."I lost all my mobility, and was totally reliant on others for everything, I was unable to eat and was peg fed for nearly three years. I had vasculitis, my body was covered in sores, Lupus, lichen planus in my mouth, and liver failure, and was weighing just 38 kilos.
"How do you come back from that? Well I spent six months in hospital, I couldn't even hold my new baby, I had waited so long for, and I was told I would never be able to walk again, or be independent again. I spent three years so determined to get better and prove everyone wrong. I was even more determined to be a good mother, and do the things I loved to do most of all.

"It was a long recovery but finally I started to get back to normality. I had always loved sports and being outside but I couldn't run or horse ride like I used to.

"So, I had to find a sport that I could do, not easy, but my husband, is a very keen golfer. He's really good too! He suggested that I give golf a try. Well nothing is impossible. First challenge holding the club, second challenge swinging it, and turning your body, forth walking around the course. As I said nothing is impossible. I don't have a conventional swing, I can't turn the left side of my body so my left foot comes up, and I use a golf buggy to get around. I love every minute of it.

"I discovered a fantastic golf club, The Shire, who are disabled friendly, nothing is too much trouble to accommodate me.
"The course is owned by a lovely family, who have hosted the Disabled Golf Open and are now are supporting a cause very close to my heart."