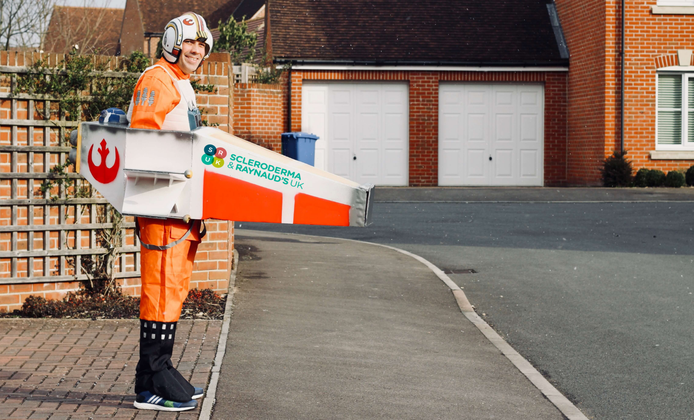 #TeamSRUK at London Marathon and World Record attempt
We were at the London marathon on Sunday to cheer on our runners #TeamSRUK We had 6 runners, Tom, Ian, Khalid, Jason and Ian, and Emma. Ian attempted to break a World Record- for fastest marathon dressed as a Star Wars character.
Ian succeeded in completing the marathon in full costume but didn't manage to break the world record, but it was the hottest marathon on record so it may not have been the right day for breaking marathon records in full costume.
Ian Cox, 41, only took up running five years ago, but 2018 will mark his third London Marathon for Scleroderma & Raynaud's UK (SRUK), and this year he will be taking on the 26.2-mile course dressed as an X-Wing.
Ian decided to take part in his first run after his dad was diagnosed with scleroderma, an autoimmune disease which causes the body to attack healthy cells which then harden and scar. The condition can affect the skin, underlying tissues and internal organs and, for Ian's dad, became fatal.
Ian was inspired to do something to support his dad and others affected by the condition and in 2014 signed up to take part in the Reading Half marathon for SRUK.
He said: "The day after I set up my JustGiving page my dad passed away, so he never knew I was running it for him, which will always live in my memory."
Since then, Ian has taken on more and more challenges in memory of his dad, which has inspired his decision to take on the world record attempt.
He said: "I have always been a Star Wars fan since a little boy, and I know how much my nephews love Star Wars. I'm hoping my costume will capture the imagination and raise awareness for the charity."
Amy Baker, Head of Engagement and Development at SRUK said: "We are so proud of Ian for joining team SRUK. Without people like Ian, we would not be able to support over 126,000 people each year to live better with their conditions. Ian's World Record Attempt is not only going to raise much needed awareness of the conditions but will also raise vital funds to support our services and research. We will be at mile 14 on the day with our team of cheerers to give Ian an extra boost as he takes on this amazing challenge."
Runner Just Giving pages