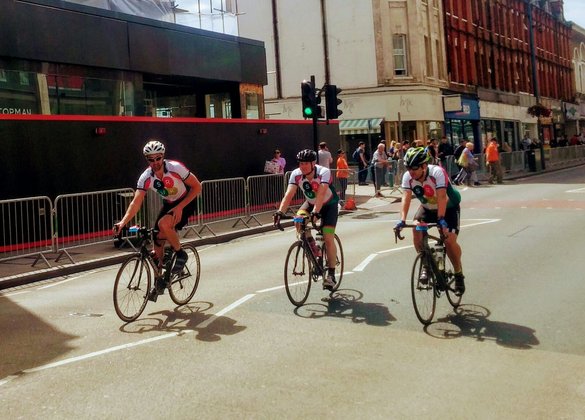 Team SRUK breeze through 100 miles at Ride London-Surrey 100
SRUK supporters turned out in force to cheer on our record breaking Ride 100 Cycle Team on Sunday 30th July 2017. Our cheering point on Putney High Street offered fantastic views of one of the route's fastest points coming down Wimbledon Hill. We saw all of our riders passing the 90 mile point on their way to their finish in Central London, having left Stratford hours earlier and cycling 50 miles to the far side of the South Downs and back.
8 Riders started, and 8 riders finished, with Andy Kinch, Jason Welch, and Peter Woodroffe finishing first for Team SRUK in under 6 hours; a truly amazing time as a trio.
The rest of our team: Helen Ould, David Seamans, Brett Van der Veen, and Charles Fielden; all finished and have done themselves and the charity proud. It was fantastic to cheer them on as they went by and we hope the day was as enjoyable for them as it was for us.
Team SRUK has so far raised over £5,000 with every penny going towards our life changing work, from supporting our helpline team to answer more calls to funding research projects to further our understanding and treatment of the conditions.
If you would like to show your support for the Team you can still donate.
The fantastic event on Sunday has made us very excited for the next big London race, at the Royal Parks Half Marathon on the 8th October 2017. With a beautiful course and a fantastic festival atmosphere it is the perfect way to get involved with SRUK this year. If you would like to run for us at the Royal Parks Half Marathon this year please visit this Royal Parks to register your interest and I will get in touch.
Once again, our thanks go our to our amazing riders and here's to another year of fundraising with our fantastic members of Team SRUK.