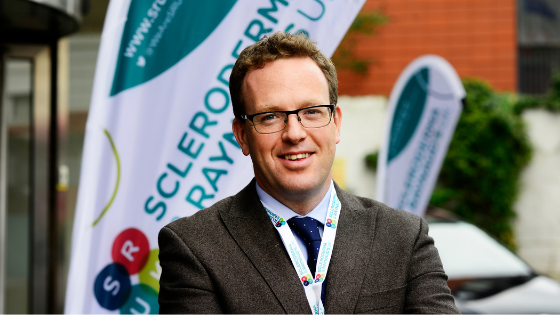 A study into the relationship between Systemic Sclerosis and cancer
The relationship between systemic sclerosis (SSc) and cancer, an idea first presented in the 1950s, is currently being examined in an epidemiological study funded by SRUK and led by Dr John Pauling at the University of Bath.
Epidemiological studies are used to understand patterns of diseases in the population, and can enhance knowledge of why these diseases occur and how they can be prevented. Previous studies have suggested that the number of patients with SSc in the UK is significantly lower than that of the US, Australasia and Europe. It has also been observed that nearly 10% of individuals with SSc experience a cancer diagnosis, either before or after being diagnosed with SSc. As a result of this, it has been hypothesised that cancer may be a driving force of SSc in some patients, whereas in others the risk of cancer may be raised due to either the disease process of SSc or the treatments used against it.
Dr Pauling and his team therefore aimed to undertake a fresh epidemiological analysis of the healthcare information from nearly 20 million UK residents, and obtain current figures on the likely number of patients in the UK with SSc. It will then be possible to monitor changes in the numbers of new patients with the disease, as well as why it may be that the prevalence of SSc in the UK is lower than in other locations. The team will assess the relationship between SSc and cancer by comparing those who have both to those of the same gender and similar age who have neither. Alongside enabling accurate planning of the service needs of patients with SSc attending UK hospitals, this study will help in understanding the cancer risk occurring in SSc, the specific cancers associated with SSc to look out for and the increased mortality risk from cancer in SSc.
A fundamental goal of this study is to both gain further knowledge of causative factors in SSc development as well as to distinguish the potential role of cancer as a key driver in the development of SSc. This will facilitate the development of evidence-based surveillance programmes for looking at cancer in high-risk patients.
So far, the team have been successful in reviewing the case notes for when patients have been diagnosed with SSc, and hope to publish their analyses of associations between SSc and cancer in 2019. A study like this is the first in raising awareness of the relationship between SSc and cancer and in developing health programmes to identify cancer earlier. This will thus improve SSc survival and quality of life, by ensuring prompt treatment and better outcomes.

If you are interested in helping SRUK to fund more work like this, then please visit our donations page here. We rely on the generosity of our community to continue to support groundbreaking research in both scleroderma and Raynaud's.
If you would like more information on other known associated conditions with scleroderma, please visit: Related Conditions
Information on another piece of new research on scleroderma can be found here: SRUK funding clinical study to treat fibrosis