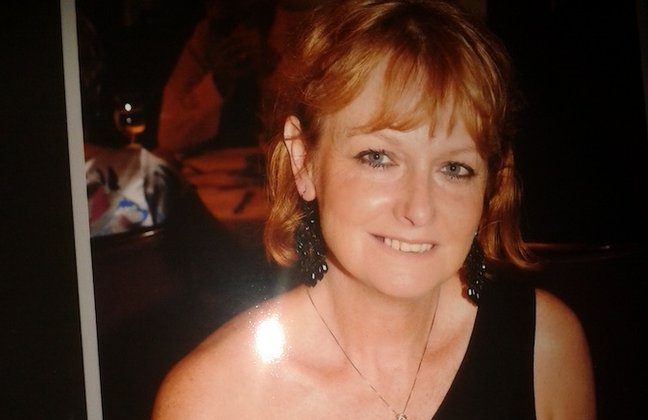 Sian's blog - My Story on Surviving Scleroderma – Sclero-what?
Hi everyone,
I am aiming to write this blog to show and describe my experience of living with this difficult disorder (and the others), in hopefully a frank and honest way, depicting the funny, sad, bad and mad situations in which I've had to live and endure my life with systemic scleroderma.
No handbooks, leaflets or internet were available in the early 80's, just a group of unsure, confused local doctors in awe of a more knowledgeable, wary team of London consultants … Scleroderma.. Sclero-what? What a strange word to get your tongue around let alone trying to describe it to everyone whilst looks of horror and bewilderment passed over people's faces like the clouds over Swansea Bay.. They probably had more awareness of the plague, than this obscure illness I had been mysteriously and suddenly cursed with! Uncommon, rare, life- threatening, long-term and incurable. These were just a few of the scary descriptions assigned to this disease. We just kept looking at each other in shock, horror and disbelief. Coming from a Catholic family the whole parish and school were praying and asking the appropriate Saints to look over me, of which I was very grateful – all support was welcomed by my desperate family and myself- we were all praying for a miracle.
My story began almost 38 years ago when, at the age of fourteen, I started experiencing disturbing symptoms on a daily basis, such as painful joints, fatigue, whitening of the hands and feet, fatigue and just mainly feeling so ill...I had suffered with anxiety since I was a child and this gradually worsened due to all these new physical issues. I was quite simply, terrified...
Now, when I'm having a quiet moment, on my own I can hardly believe that I'm still here.. Whether I'm walking Eddy my excitable, handsome dog through the park, cooking with my fiance Simon, or sitting in a cafe looking out at the rain, people watching, waiting for my friends to arrive, I think to myself, 'God, I'm still here'.. thank you..
I was only correctly diagnosed in 1991 at the Royal Free and Royal Brompton with scleroderma/systemic sclerosis, Raynaud's, rheumatoid arthritis and suspected pulmonary hypertension; I had been misdiagnosed for a decade as I became ill in 1980/81. Dr Barbara Ansell at Northwick Park hospital had stated that I had mixed connective tissue disorder with an undetermined overlap disease and no obvious sign of rheumatoid involvement- how wrong they were with this and how complicated and scary it sounded to me at the age of 15 also, how difficult it had been to receive a correct diagnosis. I suppose it had been hard for them in the early 80's but for me it was literally a living never-ending nightmare..
Here is an excerpt from notes I made at the age of fifteen when on holiday in France with my family:
"Whilst swimming with our new pals in the lukewarm, dark, turquoise sea, I'd noticed a weird, unfamiliar sensation in my feet and hands, almost a numbing feeling which concerned me as we were quite far from the beach swimming and messing around in the water... I looked at my fingers, spreading them in front of me as they were all completely white-looking; odd against my tanned skin. I tried not to panic and decided to turn and head back as I was afraid of what was happening to my extremities and knew I had to keep buoyant. Being a strong, fast swimmer I was soon back at the shore however noticed every stroke and kick felt oddly different due to the numbness I was experiencing. Emerging from the sea I looked down at my toes and they too appeared white against the dark wet sand. This had been happening prior to the holiday but seemed worse now that I had been in the sea and suddenly everything seemed blurry and wonky as if my world had been tipped sideways and shaken like a snow-globe, shards of light flashing from all angles hurting my eyes and head until nothing but silence. I awoke later covered in towels with my head on my distraught Mum's lap, the sound of a siren intermingled with the crash of waves and a screeching seagull and I lay there, eyes half-closed, thinking, knowing that this was the beginning of a cruel dream and the end of my 'normal' life, and I was totally unprepared."
I'll be back in touch with my next scleroderma blog soon.
Sian.