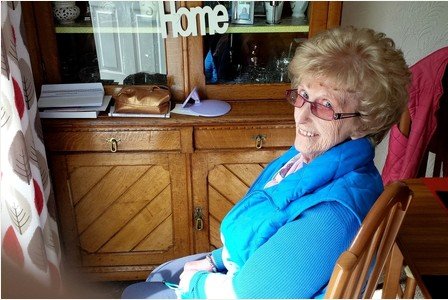 Scleroderma and Raynaud's in the Uttoxeter Advertiser
Earlier this week our member Shirley Wagstaff spoke with Elizabeth Fry from the Uttoxeter Advertiser.
They spoke about how both conditions have affected Shirley and how she copes with symptoms on a day-to-day basis.
You can read the full interview with Shirley below:

A brave woman from Uttoxeter has spoken out about what life is like with two life-limiting illnesses which have no cure.
Shirley Wagstaff, 74, is one of just 19,000 people in the UK with scleroderma, but she also suffers with Raynaud's and rheumatoid arthritis.
Scleroderma is a rare, chronic disease of the immune system, blood vessels and connective tissue, and sees the immune system become overactive and begin to attack healthy tissues in the body.
The condition causes skin across the body to harden as the body is making too much collagen, and makes the skin, joints and tendons very tight. This makes leading an ordinary life very difficult.
Shirley, a retired finance officer from Cheadle High School, explains that simple things such as cleaning windows, visiting the dentist and even eating have become more of a challenge with the condition, although she is determined to remain positive.
She said: "It even affects the skin on your face, and draws your mouth in. They call it 'little mouth'. Going to the dentist is difficult.
"Eating is normally okay, but you have to keep a napkin a bit closer to hand."
There is no cure for either condition, although massages and an annual visit to the hospital for drug therapy help.
Shirley added: "You can help it by having a good diet and exercising. All you can do is try to keep it at bay.
"Without the drugs I wouldn't be able to get out of bed."
It all began for Shirley at the age of 40 when she was going out for walks.
She said: "When I was walking in September I noticed my hands and my fingers were going numb and tingly. But it was not particularly cold, and looking at my fingers they were discoloured.
"Back then, no-one knew much about it, and the drugs didn't work, so I just had to put up with it."
Raynaud's is a common condition thought to affect up to ten million people in the UK, and is where the small blood vessels in the extremities are over-sensitive to changes in temperature. This causes a Raynaud's attack which can be a very uncomfortable, possibly painful, process and can also make everyday tasks like buttoning a jacket or unzipping a purse, very difficult.
Following the Raynauds diagnosis, Shirley was diagnosed with rheumatoid arthritis, and then at the age of 50, she received the news that she also had scleroderma.
She said: "It is frightening when you get the diagnosis there is so little known about it.
"My skin became very dry and for me my fingers are very bent and are much smaller. The skin has become tight, and so my arms do not have the reach now that they used to. I cannot do things such as wash the windows. You just have to be positive about these things, you can't just stay in because of it.
"You can just do the best you can for you."
Scleroderma and Raynaud's UK is a charity dedicated to improving the lives of people affected by scleroderma and Raynaud's and has launched a support group at the Brewhouse Arts Centre in Burton.
The next meeting of the group is at 7.30pm on Wednesday, May 18.
Anyone who would like to contact Scleroderma and Raynaud's UK can do so by calling 08003 112756.
This interview was originally posted on the Uttoxeter Advertiser website