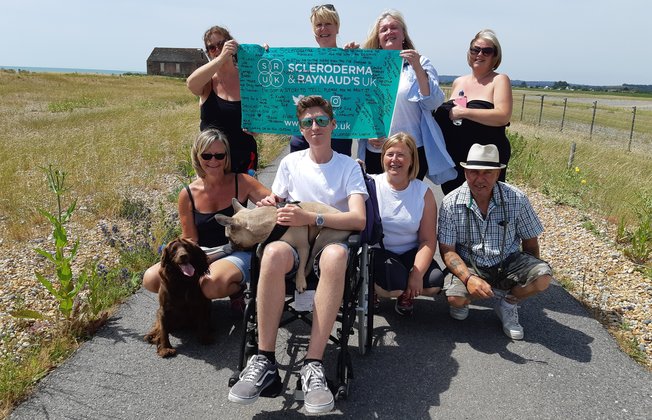 Mum walks 100 miles to find a cure for son's rare condition
This June, Jo Barry walked 100 miles to raise vital funds and awareness for Scleroderma & Raynaud's UK (SRUK,) to help find a cure for her 18 year old son Mat.
Mat is living with a condition called scleroderma, his body is attacking itself causing hardening and scarring. Mat has the most severe form of the condition, which attacks his internal organs.
Mathew was just 9 years old when he was diagnosed with this life-limiting condition. Scleroderma is rare but Mathew is extremely rare, statistically he is one in two million as seven out of 10 people affected by scleroderma are women with the onset of symptoms usually happening between the ages of 30 – 40.
Jo has watched her son battle this condition every day, through hospital admissions to needing surgery, watching her son struggle to eat food due to the condition affecting is oesophagus and seeing his weight plummet to the point where he needed to be artificially fed to keep him alive.
Jo said, 'since diagnosis the most difficult thing to come to terms with is the fatigue. I have a teenage boy who goes out with his friends and then takes two days to recover. He spent most of secondary school only doing four days a week due to fatigue. I was so proud when he got 6 GSCE's at the end of school'.
Jo wanted to show her support for Mat and help other children and families battling this devastating condition, so for Scleroderma Awareness Month (June) she is taking on the mammoth challenge of walking 100 miles.
Jo told us, 'If I can raise some funds and awareness along the way that would be great. I'm doing it for all the other scleroderma sufferers throughout the UK, we need to find a cure NOW'.
Amy Baker, Head of Engagement and Development at SRUK said, "We are so grateful for the support of individuals like Jo. We are funded entirely on donations and fundraising and so without supporters donating and taking on challenges like this, we would not be able to continue our life-changing work. To date SRUK has invested over £10 million into research and every penny of this has come from our wonderful supporters."
If you would like to show your support and help Jo find a cure, donate to her JustGiving page.