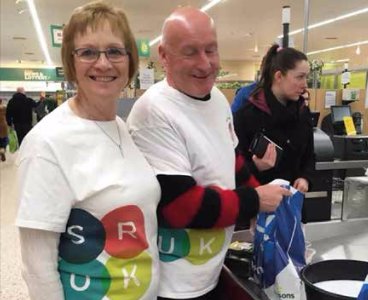 In November of 2016 I received an email from a fundraiser called Megan Duncan. She asked me for some leaflets to support a fundraiser she was holding in memory of her mum Marlene, who had sadly passed away in July of 2017. She and the rest of the team: Mick, Sheila, Steven, Stewart and others, had already raised £1000.
I had frequent contact with Megan and the rest of the 'Marlene's Memories' group over the next 4 months, but every time I thought they had finished their hard work, they reported on another lump of fundraising coming in soon. It's 6 months on and in that time, they have welcomed me to their community with open arms, educated a small town of people about the conditions, and raised over £12,000.
They have managed to achieve this wonderful memorial to a truly wonderful woman with some dogged determination and an abject refusal to do the same thing twice. Since the beginning of 2017, they have held various events from arranging a quiz night and a supermarket bag pack to actively sourcing donations from local sports teams and community groups. They are an amazing example of a group having taken a heartbreaking moment in all of their lives, and making something positive out of it. Having visited their group in Peterhead and meeting the community, I can attest to how well they have rallied their community around the cause and found strength in depending on those around them.
I was welcomed and treated warmly by everyone I met in this small Scottish town, and the fact that I knew and was the guest of the Duncan family and friends always counted for a lot. They, and the community of Peterhead, should be proud of all they have achieved.

Henry McGinty Community and Events Fundraiser.