Increasing Awareness
During June we launched our first public facing awareness campaign to highlight the signs and symptoms of Raynaud's and the link between Raynaud's and Scleroderma.
In a survey we sent to our community in the early beginnings on SRUK in November 2016 you told us that you wanted SRUK to achieve greater awareness and understanding amongst medical professionals and the general public.
So, during June 2017 we launched our first public facing awareness campaign to highlight the signs and symptoms of Raynaud's and the link between Raynaud's and Scleroderma.
To ensure this campaign was credible we firstly conducted a piece of research. We then asked the general public whether they knew about Scleroderma and Raynaud's and whether they could identify the symptoms. We were astounded by the results:
Over three quarters of people have never heard of Raynaud's or don't know anything about the symptoms
67% of people believe Raynaud's affects only one person in 5,000 or even less, when the actual figure is one in six
Just 4% are able to confidently identify the symptoms of Raynaud's, falling to 1% for Scleroderma
Roughly one in five people would be embarrassed to say they had the conditions whilst 20% of people would be frightened to touch someone with Raynaud's and 24% someone with Scleroderma
Our research showed the importance of informing and educating the general public not only to ensure that anyone experiencing recurring symptoms sees their GP but also to reduce the stigma and misunderstanding surrounding the conditions.
To increase awareness since then we've launched the campaign #KnowRaynauds. We know that for many people affected by scleroderma, Raynaud's was their first symptom and so by informing and educating the 10 million people (approximately) affected by Raynaud's we may be able to ensure earlier diagnosis.
We also know that many people with Raynaud's do ignore the symptoms and just get on with life, not knowing they have Raynaud's nor that treatment is available in many cases to help people cope with the painful and sometimes life-changing effects of the condition.
#KnowRaynauds has raised awareness of Raynaud's, the signs and symptoms to look out for, when to go and see a GP and the support SRUK can provide to those affected.
#KnowRaynauds has since been featured in a range of local and national press, reaching an audience of over 39,028,962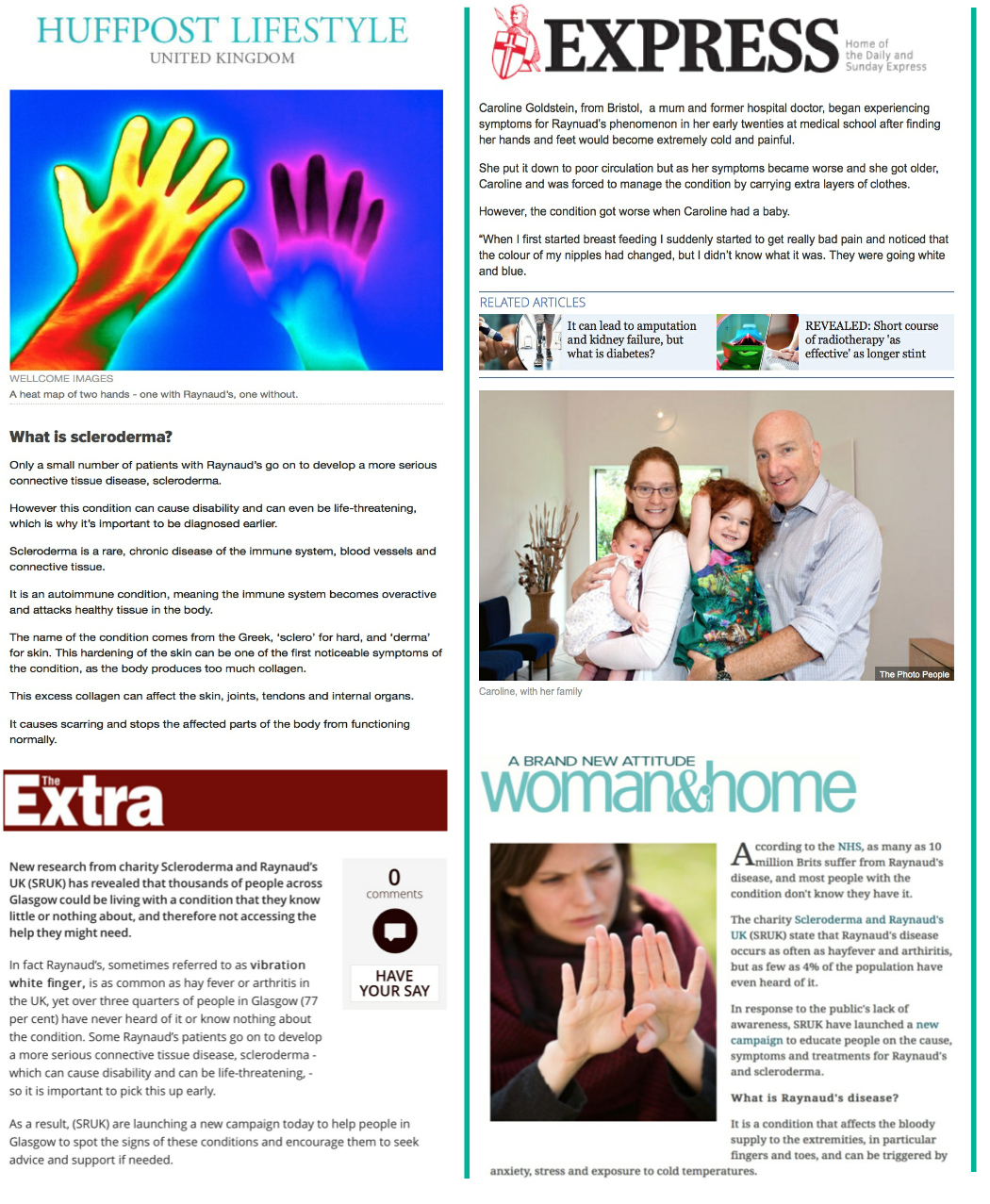 Press Coverage
National and Consumer Press
Local Press
The Glasgow South and Eastwood Extra
Charity of the Month
We were thrilled to be nominated as Unite/CPHVA's charity of the month throughout June 2017. We would like to say a big thank you to Jane Beach (Professional Officer for CPHVA) for nominating the charity and enabling us to work with community practitioners and health visitors to raise awareness of Scleroderma and Raynaud's.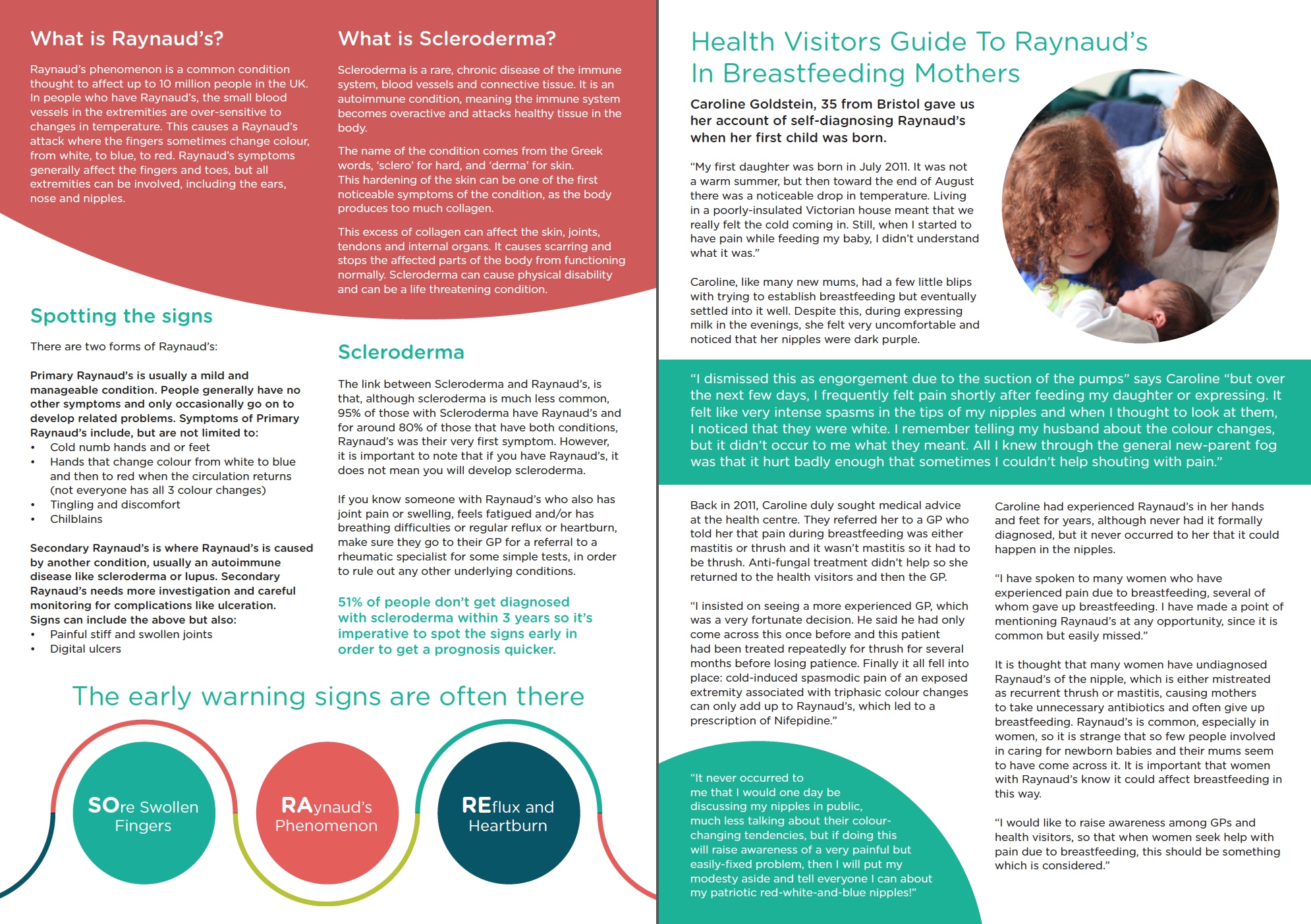 CPHVA (Community Practitioners and Health Visitors Association) is the UK's leading professional organisation for health visitors, school nurses, nursery nurses and other community nurses working in primary care with a current membership of 100,000 health workers. Unite/ CPHVA is a section of the Unite trade union, which is the largest union in the UK.
During June 2017 all Unite/CPHVA members received an 8-page briefing from SRUK which included information about the charity, the conditions, the signs and symptoms to look out for and how best to support patients they see within the community who may be affected by Scleroderma and Raynaud's.
Sue Farrington and Jane Beach also joined Helen Bird (Community Practitioner editor) for a webinar where the conditions were discussed in further depth and the relevance to community practitioners and school nurses highlighted.
On Tuesday 14th June 2017 we took part in CPHVA's Twitter Tuesday where we answered questions from health visitors and spoke about Scleroderma and Raynaud's. During Twitter Tuesday (7pm – 8pm) 619 tweets were sent and we reached 1,317,663 twitter feeds.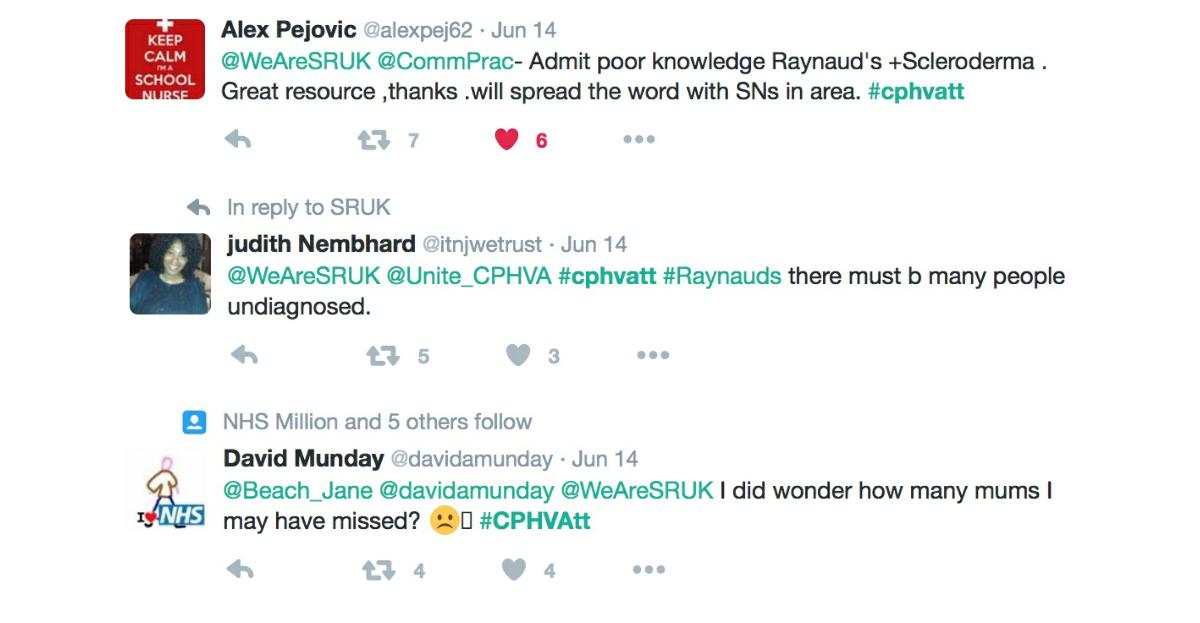 You can download the full 8 page briefing below and share with your local GP surgery or any health practitioners that you see in your local community. By working together we can make sure that everyone knows the signs and symptoms to look out for.
SRUK CPHVA Member Briefing
PMRGCUK Newswire article