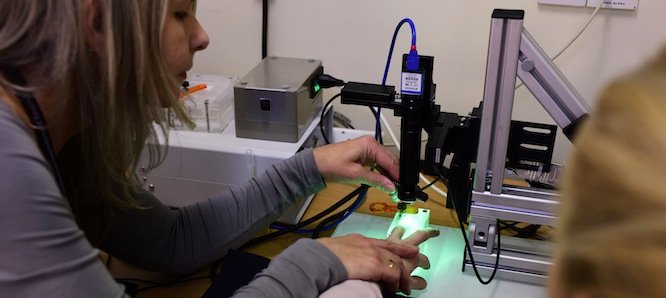 First Raynaud's test clinic to launch in Leeds
Mobile clinic in Leeds
A pioneering new mobile testing clinic will allow Leeds residents to undergo screening for two little-known conditions. SRUK is offering people the chance to take a quick non-invasive test for Raynaud's and underlying conditions, including scleroderma.
The clinic will be located on Briggate, Leeds city centre, from Monday 26 June – Sunday 2 July
It will be open every day from 9am to 5pm – no appointments needed, just turn up
Local residents are invited to attend for a five minute, non-invasive test to determine if they have Raynaud's and their risk of developing Scleroderma
A pioneering new mobile testing clinic will be arriving in Leeds on Monday 26 June, offering local residents the opportunity to undertake a quick, non-invasive test for Raynaud's and underlying conditions linked to Raynaud's, such as the auto-immune condition scleroderma.
The pilot clinic, the first of its kind in the country, is designed to raise awareness of these two little-known conditions and facilitate further research into diagnosis and treatment that could benefit up to 10 million people in the UK. Whilst many may never have heard of the conditions, approximately 75,150 people in Leeds (1 in 10) will have Raynaud's, a disease that affects blood supply to the body's extremities.
Only a small number of patients with Raynaud's go on to develop scleroderma, a more serious connective tissue disorder which can cause disability and be life-threatening, however it is important to pick this up early so that any complications can be properly treated.
New research
New research from Scleroderma & Raynaud's UK (SRUK) has revealed that people with scleroderma in the UK are waiting up to two years and visiting their GP an average of five times before receiving a diagnosis. Over a fifth (22%) made more than 10 visits to a health professional before a diagnosis was given.
The Leeds clinic is open to everyone, so if you (or someone you know) are displaying any of the following symptoms, which could be a sign of Raynaud's, then please come along to the testing facility:
Unusually cold fingers and toes
Colour changes in the skin in response to cold or stress
Colour changes in the affected area to white, then blue and then red
Numbness, tingling or pain in the fingers and toes
Stinging or throbbing pain upon warming or stress relief
Visitors to the clinic will be asked to place their finger under a strong microscope which shows the blood vessels under the skin. Clinicians will look at the shape and size of these capillaries to determine if they have Raynaud's and whether they are at risk of developing scleroderma.
Dr. Francesco Del Galdo, Head of Scleroderma Programme says: "7% of the UK population, 3.5 million people, will be affected by a rare disease like scleroderma at some point in their lives, yet only a tiny proportion of health funding goes on research, diagnosis and treatment of these conditions*. This pilot testing programme in Leeds is critical in helping to raise awareness of the need for greater investment in to research for Raynaud's and scleroderma, and we're hoping the data we gather could help us develop better diagnostic tests and treatments, saving time and money."
World Scleroderma Day takes place on Thursday 29th June, and will see organisations from around the world uniting to increase awareness of this rare autoimmune condition.
[ENDS]
NOTES TO EDITORS
Raynaud's phenomenon is a common condition thought to affect up to 10 million people in the UK.
In people who have Raynaud's, the small blood vessels in the extremities are over-sensitive to changes in temperature. This causes a Raynaud's attack where the fingers sometimes change colour, but not always, from white, to blue, to red.
Raynaud's symptoms generally affect the fingers and toes, but all extremities can be involved, including the ears, nose and nipples.
Scleroderma is a rare, chronic disease of the immune system, blood vessels and connective tissue. 2.5 million people worldwide have scleroderma, and in the UK there are 19,000 people diagnosed. In scleroderma the body starts to attack healthy tissue by overproducing collagen, causing hardening, scarring and reduced function to the affected areas. Scleroderma is a life-limiting condition and can be life-threatening when the organs become affected.
Scleroderma & Raynaud's UK (SRUK) is the only UK Charity dedicated to improving the lives of people with Scleroderma and Raynaud's phenomenon.
They improve awareness and understanding of these conditions, to support those affected, and ultimately, to find a cure.
They currently support twenty-two thousand people in the UK. Their aim is to reach out to every single person who has Scleroderma or Raynaud's , providing them with the information and support they need.
* Just £220,000 of health funding was spent on research into scleroderma in 2015/16, 0.02% of total spending on medical research that year.