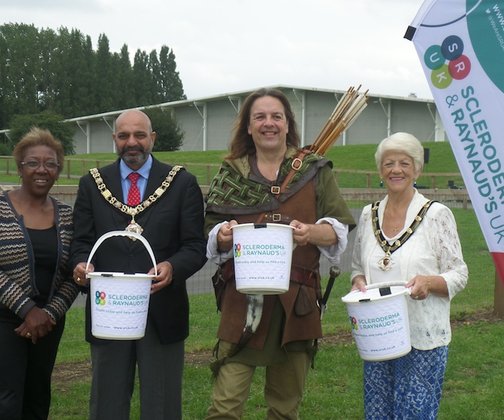 Fantastic community event in Nottingham
Nottingham local councillor Corall Jenkins recently held a brilliant community event in memory of her husband Stan, who sadly passed away from scleroderma. Corall organised a family fun day with children's activities, food and drink, fundraising competitions, and much more to bring the community of Nottingham together.
The day was supported by the Lord Mayor, the Sheriff of Nottingham and Robin Hood who encouraged the community to learn more about the work of SRUK and raise vital funds for the charity.
On the same day, Corall arranged a club night featuring local DJs Black Harmony Sound, Ghetto Jam, and Mr Notch. The event was held at the I Club in Nottingham and was a huge success. Over £1500 was raised from the day.
Corall not only wanted to raise money to support SRUK but also raise awareness of the conditions in her community. Corall's experience of the local health system has led to strong conversations about the referral process in Nottingham and education of local GP's. We will be exploring pioneering opportunities with the council to ensure patients receive the best quality of care.
Prior to the event, Nottingham's Kemet FM interviewed Councillor Corall Jenkins. Corall spoke about her past husband Stan who past away from Scleroderma and also the fantastic fundraising event she organised. It was really good PR for SRUK and reached out to Nottingham and in-particular the community to raise awareness of the condition.
In the photo above: Cllr Corall Jenkins, Lord Mayor of Nottingham (Cllr Mohammed Saghir), Robin Hood, Sheriff of Nottingham (Cllr Jackie Morris)