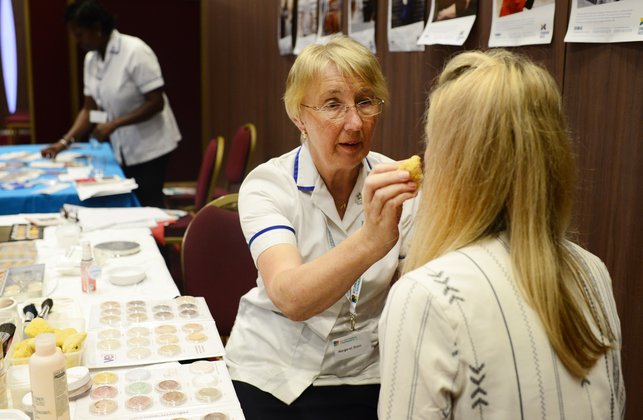 Autologous lipotransfer utilises the patient's own cells to reverse the effects of fibrosis
Charity research makes a difference, as demonstrated by the recent Association of Medical Research Charities report. We at SRUK have been investing in Raynaud's and scleroderma-focused research for 30 years, which has led to improved diagnosis and understanding of the conditions. We are currently supporting 15 projects, one of which involves the novel technique of injecting the patient's own cells into the facial tissues to treat fibrosis.
Tightening of the tissues of the face and mouth secondary to fibrosis is a prominent feature of scleroderma. Facial fibrosis greatly impacts the quality of life of patients and most often leads to problems with eating, speaking and dental care.
Peter Butler, Professor of Plastic and Reconstructive Surgery at the Royal Free Hospital London, has been using this pioneering and innovative new treatment option to treat fibrosis of the face and other tissues in people with scleroderma. The technique is known as autologous lipotransfer and utilises the patient's own cells to reconstruct facial tissue and reverse the effects of fibrosis and internal scarring.
The procedure is minimally invasive and is performed as a day surgery. The patient's own fat tissue is collected and by processing is enriched with the patient's stem cells. The resulting tissue mixture is then carefully microinjected into the affected facial and mouth tissues. Professor Butler has treated over 100 patients have with this technique and the results are remarkable, with improvement in mouth opening and softening of the facial tissues. Facial volume is enhanced, but most strikingly the effects of facial fibrosis are reversed. This has had profound effects on the patient's quality of life and restores facial mobility and mouth function.
This treatment has allowed severely affected patients to receive proper dental care again and has noticeably improved their sense of wellbeing and outlook. The other exciting thing to emerge from this research work is that this technique has the potential to be enhanced to find a new treatment for scleroderma systemically. The research we are funding will improve understanding of how autologous lipotransfer works. With this knowledge, it is hoped that the treatment could be modified to treat other forms of fibrosis. Professor Butler, director of the newly-formed Charles Wolfson Centre of Reconstructive Surgery, is working in collaboration on this project with Professor Chris Denton and Professor David Abrahams of the Centre of Rheumatology at the Royal Free Hospital.
Lynn, who is undergoing treatment with Professor Butler, was diagnosed with systemic scleroderma 10 years ago. The treatment has already improved her quality of life. "The skin on my face was mask-like, tight and shiny, my mouth opening very limited and my dentist struggled to access my back teeth," she told us. "After my first autologous lipotransfer, I noticed a significant difference. My skin became softer and more pliable. Now, after three treatments, I can eat real food as chewing and mouth opening has improved. My skin is no longer shiny and the mask-like appearance has gone. I feel so much more confident in my own skin."
There is currently no effective disease-modifying treatment option for scleroderma and no available treatment to reverse the effects of fibrosis. Autologous lipotransfer offers real promise as a future treatment.
Professor Butler and Lynn Steblecki discussed this treatment at our annual conference.