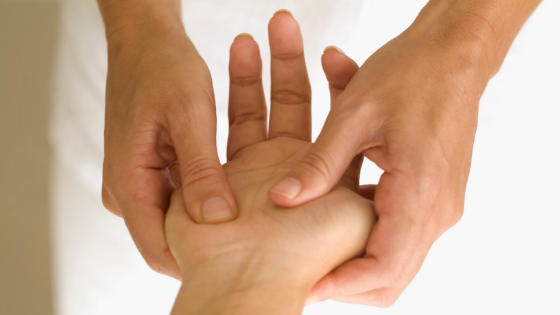 Alternative Therapies: Do they help Raynaud's?
Over the years, many people living with Raynaud's have advocated for the use of Chinese acupuncture and Chinese acupressure, but do they actually help?
Acupressure, much like acupuncture, is the use of pressure on key points of the body based on meridian theory. It can be self taught and used at home. Some Raynaud's patients find the practice of acupressure extremely helpful, not only in its physical effects but also in its holistic philosophy.
The pilot study 'A Randomised Controlled Trial of Acupressure for the Treatment of Raynaud's Phenomenon: The Difficulties of Conducting a Trial on Raynaud's Phenomenon', aimed to assess the efficacy of acupressure as a treatment for both primary and secondary Raynaud's. The rationale behind this was that current pharmacologic therapies tend to be costly, have side-effects and are sometimes of limited efficacy, therefore other complementary treatments are an attractive area to be looked into. The results of this study showed that although there was a slight improvement in those treated with acupressure compared to those who were not, such as a lower frequency and a shorter duration of attacks, neither result was statistically significant. This implies that, based on efficacy, acupressure is not therapeutically beneficial for physical symptoms.
According to the British Acupuncture Council, traditional acupuncturists believe that the underlying principle of treatment is that illness and pain occur when the body's qi, or vital energy, cannot flow freely. There can be many reasons for this; emotional and physical stress, poor nutrition, infection or injury are among the most common. By inserting ultra-fine sterile needles into specific acupuncture points, a traditional acupuncturist seeks to re-establish the free flow of qi to restore balance and trigger the body's natural healing response. A previous study has found Chinese acupuncture to be beneficial to Raynaud's patients, as patients had a reduced frequency of attacks. A key point to remember is that outcome measures in Raynaud's tend to be variable, making conclusive results difficult.
Despite the results of this study, it should be noted that even if a clinical trial 'disproves' the benefits of an alternative therapy, it does not necessarily mean that it is ineffective. Many people find comfort in traditional therapies and find that they feel that symptoms are alleviated. After all, if the mind is happy, often the body can feel the benefit.
If you are interested in helping SRUK to fund work like this, then please visit our donations page here: https://www.sruk.co.uk/donate/. We are an organisation that benefits from any donation, big or small, monthly or one off.
If you would like more information on Raynaud's treatments, please visit: https://www.sruk.co.uk/raynauds/raynauds-treatment...
Information on another piece of new research can be found here: https://www.sruk.co.uk/about-us/news/why-does-rayn...